Neurologic PET

Exploring neurological indications in PET and PET/CT
PET imaging of the brain is often used to evaluate patients with seizure disorders that do not respond to medical therapy and those with certain memory disorders. Neurodegenerative disorders are increasingly becoming more prevalent as population ages and life expectancies increase. Dementia is a common term to describe symptoms impacting a person's cognitive abilities. The most common type of dementia is Alzheimer's disease (AD), accounting for 60% -70% of all dementia diagnoses.1 As of 2021, AD is the sixth leading cause of death in the United States, and approximately 6.2 million Americans live with the disease.2
Clinicians can often determine whether a patient has dementia, but identifying the cause can be difficult. There is not one specific test to diagnose Alzheimer's disease (AD). Instead, clinicians use a series of tools and tests, including medical and family history, cognitive and neurological tests to assess thinking and physical function, and blood tests or brain imaging (CT, PET, or structural MRI).3,4
AD develops slowly and worsens over time, and the rate in which a patient declines may vary.5 Patients diagnosed with AD live between three to eleven years, with some living up to 20 years post diagnosis.6 Statistics reveal that patients who live to 70-80 years of age will spend an average of 40% of that time in the severe stage.6
Therefore, the age at which a person is diagnosed often has the most significant impact on determining life expectancy.7 While current AD medications don't cure the disease, they may improve quality of life and prolong independence.
An early diagnosis can offer the patient and their family valuable time to make decisions regarding medical care and needs.
For loved ones
Participate in planning of care for their loved one
Address safety issues and concerns
Patients with symptoms of cognitive impairment are often misdiagnosed with Alzheimer's disease (AD). The only definitive method to diagnose AD is a neuropathological examination, usually performed during an autopsy.8 Up to one in five patients clinically diagnosed with probable Alzheimer's disease during life do not have AD pathology upon autopsy.8
With no single test available to offer a definitive diagnosis, the path to obtaining a diagnosis can be a cumbersome and a prolonged evaluation process which often includes a neuropsychological assessment, routine blood tests, and conventional imaging like CT or MRI.3,4 One of the significant advances in AD research is the development of PET biomarkers targeted specifically for detecting beta-amyloid plaques and tau protein tangles.9 The USFDA approved amyloid-β PET in 2012, and in 2013 the Centers for Medicare and Medicaid (CMS) issued a National Coverage Determination (NCD) allowing conditional coverage with a 'coverage with evidence development' (CED) in clinical studies that meet specific criteria.
Healthy brain
β-amyloid protein fragments are broken down and removed from the brain
Alzheimer's disease brain
β-amyloid protein fragments accumulate to form hard, insoluble plaques between neurons

Data has shown that beta-amyloid plaques can begin to accumulate 20-25 years before the clinical onset of the disease, suggesting that β-amyloid is involved in the pathophysiology of AD.6 The use of β-amyloid PET imaging may help enable the quantification of β-amyloid plaque burden in the brain cortices as well in the blood vessels supplying the brain. Because β-amyloid plaques are found in all patients with AD, the use of β-amyloid PET imaging may play an important role in diagnosis.10 A positive β-amyloid PET scan is not a definitive diagnosis for Alzheimer's disease but rather a diagnostic tool to determine the presence of β-amyloid plaques in the brain to help increase the clinical certainty of AD diagnosis.10
β-amyloid plaques

Data courtesy of University TN Medical Center, Knoxville, TN, USA
β-amyloid plaques are seen in other neurologic conditions and older people with normal cognition; therefore the confirmation of β-amyloid plaques does not definitively lead to AD diagnosis.
New IDEAS study
Even with over a decade of PET amyloid imaging studies, there has been little-to-no impact on patient outcomes. The first IDEAS study was the largest CMS-approved study and provided the most robust Phase IV data supporting the clinical utility of β-amyloid PET imaging.11 However, gaps were identified in the first study, which required further investigation to confirm appropriate use.
The objectives of the new IDEAS study include:11
Determining whether β-amyloid imaging assists clinicians in providing a more accurate diagnosis and improved treatment decisions
Aims to be the most racially and ethnically diverse study ever launched
Improve health equity by offering Alzheimer's disease research results that are relevant across diverse populations
USFDA-approval
In July of 2021, the USFDA approved the first therapeutic to treat Alzheimer's disease. In April of 2022, CMS announced that all USFDA-approved anti-amyloid immunotherapies will be subject to the coverage with evidence development (CED) for patients with a clinical diagnosis of mild cognitive impairment (MCI) due to AD or mild AD dementia, both with confirmed presence of β-amyloid buildup consistent with AD.12
The Society of Nuclear Medicine and Molecular Imaging released the following statement:
"We expressed our strong opposition to this proposal. There is no evidence to suggest that a single amyloid PET scan per patient is appropriate or that a scan performed years ago can provide the diagnostic information needed to determine whether a patient is currently a candidate for therapy."
Although there are still challenges for β-amyloid imaging related to limited coverage and availability of treatments, the medical community continues to research and develop new technologies to advance the tools for diagnosing and treating AD.

Types of epilepsy
18F FDG PET/CT imaging is indicated for assessing patients with refractory epilepsy for pre-surgical evaluation.13 Epilepsy is a neurological disorder characterized by epileptic seizures caused by excessive neuronal activity in the brain. This neurological disorder affects approximately 65 million of the world's population, with approximately 20%-40% of those diagnosed with refractory epilepsy.14 There are four main types of epilepsy:
Focal
The most common form of epilepsies often affects one brain area and can move to other places. This type can involve temporal, frontal, parietal, and occipital lobes, with the temporal lobe being most common. A seizure may be motor (physical activity) or non-motor (no physical movement).15,16
Generalized
Affects both the left and right sides of the brain and usually starts during childhood. A seizure may be motor (physical activity) or non- -motor (no physical movement).15,16
Focal and generalized
Involves both focal and generalized activity and results in having both focal and generalized seizures.15,16
Unknown
Unable to determine where the seizures originate.13,14
Sharp cortical and striatal definition in pediatric patient with epilepsy
Coronal
Interictal Fludeoxyglucose F 18 (18F FDG) PET in a patient with pediatric epilepsy shows sharp definition of cortical sulci and gyri and caudate and putaminal margins
Sagittal
Small structures like superior colliculi and cerebellar peduncles sharply visualized due to high resolution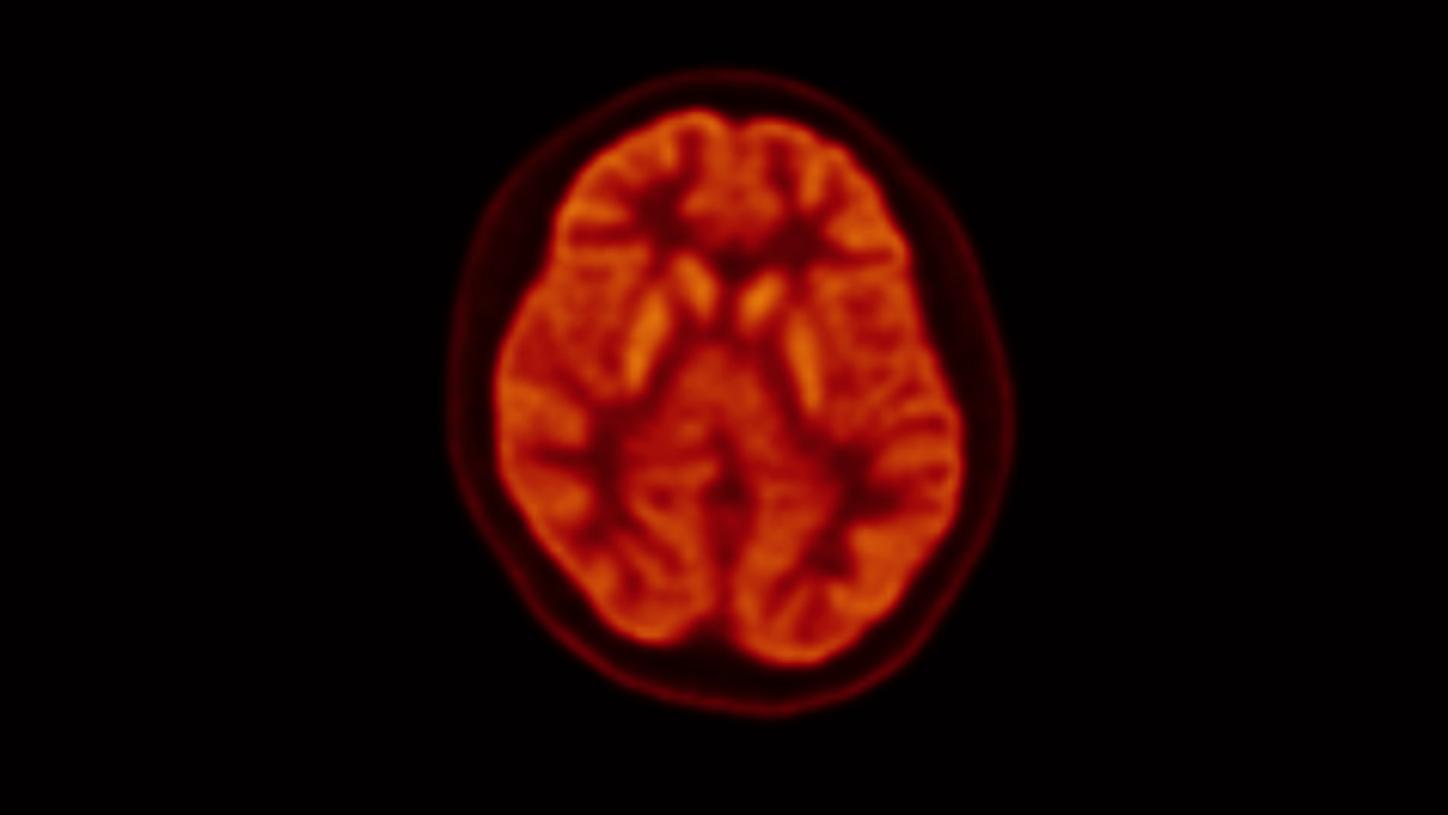 Axial
No clear foci of interictal hypometabolism suggestive of epileptic foci delineated

Identifying the ictal onset zone may provide improved management and surgical outcomes. Non-invasive techniques like EEG monitoring, magnetic resonance imaging (MRI), single photon emission tomography/computed tomography (SPECT/CT), and 18F FDG PET may be helpful in the localization of the seizure focus.14 
18F FDG measures glucose metabolism related to the synaptic and neuronal activity of the brain tissue.17 Most often, 18F FDG PET imaging is performed during the interictal phase as the ictal phase is unpredictable and makes imaging difficult due to the necessary resources required for the exam. Postictal imaging can be challenging to interpret, and uptake can vary depending on the timing of the 18F FDG injection.14 The uptake pattern with interictal 18F FDG PET may be affected by recent or ongoing seizure activity; thus, the use of electroencephalography (EEG) recording before and during the scan will assist in identifying when a seizure may be occurring.14   
Many studies have shown that 18F FDG PET may help predict surgical outcomes for patients with refractory epilepsy. In addition, 18F FDG has shown superior sensitivity for those with an equivocal MRI and EEG in determining the pre-surgical localization of epileptogenic foci with those with medically refractory partial epilepsy.14
18F  FDG PET imaging is CMS-approved in the US for pre-surgical evaluation for the purpose of localization of a focus of refractory seizure activity.18 
Important safety information

Fludeoxyglucose F 18
Indications & usage
Fludeoxyglucose F 18 Injection (18F FDG) is indicated for positron emission tomography (PET) imaging in the following settings:
Oncology: For assessment of abnormal glucose metabolism to assist in the evaluation of malignancy in patients with known or suspected abnormalities found by other testing modalities, or in patients with an existing diagnosis of cancer.
Cardiology: For the identification of left ventricular myocardium with residual glucose metabolism and reversible loss of systolic function in patients with coronary artery disease and left ventricular dysfunction, when used together with myocardial perfusion imaging.
Neurology: For the identification of regions of abnormal glucose metabolism associated with foci of epileptic seizures.
Important safety information
Radiation Risk: Radiation-emitting products, including Fludeoxyglucose F18 Injection, may increase the risk for cancer, especially in pediatric patients. Use the smallest dose necessary for imaging and ensure safe handling to protect the patient and health care worker.
Blood Glucose Abnormalities: In the oncology and neurology setting, suboptimal imaging may occur in patients with inadequately regulated blood glucose levels. In these patients, consider medical therapy and laboratory testing to ensure at least two days of normoglycemia prior to Fludeoxyglucose F 18 Injection administration.
Adverse Reactions: Hypersensitivity reactions with pruritus, edema, and rash have been reported. Have emergency resuscitation equipment and personnel immediately available.
Dosage forms and strengths
Multiple-dose 30 mL and 50 mL glass vial containing 0.74 to 7.40 GBq/mL (20 to 200 mCi/mL) Fludeoxyglucose F 18 Injection and 4.5 mg of sodium chloride with 0.1 to 0.5% w/w ethanol as a stabilizer (approximately 15 to 50 mL volume) for intravenous administration.

Fludeoxyglucose F 18 Injection is manufactured and distributed by:
PETNET Solutions, Inc.
810 Innovation Drive
Knoxville, TN 39732

These highlights do not include all the information needed to use Fludeoxyglucose F 18 Injection safely and effectively. 
Download full prescribing info
Did this information help you?
All rights reserved. All product/company names mentioned herein are the trademarks of their respective owners
1
Lattanzi S, Brigo F, Vernieri F, Silvestrini M. Visit-to-visit variability in blood pressure and Alzheimer's disease. J Clin Hypertens (Greenwich). 2018 May;20(5):918-924. doi: 10.1111/jch.13290. Epub 2018 Apr 25. PMID: 29693801; PMCID: PMC8031352.
2
Alzheimer's Association, 2021 Alzheimer's Disease Facts and Figures, Alzheimer's Dement 2021; 17(3)
3
Mayo Clinic Staff. "Alzheimer's Stages: How the Disease Progresses." Mayo Clinic, Mayo Foundation for Medical Education and Research, 29 Apr. 2021, https://www.mayoclinic.org/diseases-conditions/alzheimers-disease/in-depth/alzheimers-stages/art-20048448.
4
Mayo Clinic Staff. "Learn How Alzheimer's Is Diagnosed." Mayo Clinic, Mayo Foundation for Medical Education and Research, 7 May 2022, https://www.mayoclinic.org/diseases-conditions/alzheimers-disease/in-depth/alzheimers/art-20048075.
5
Bateman, Randall J., et al. "Clinical and biomarker changes in dominantly inherited Alzheimer's disease." N Engl J Med 367 (2012): 795-804.
6
Alzheimer's Association. (2021). Alzheimer's disease facts and figures. [Ebook]. Chicago. Retrieved from https://alz.org/media/Documents/alzheimers-facts-and-figures-2021.pdf
7
"Alzheimer's Disease Fact Sheet." National Institute on Aging, U.S. Department of Health and Human Services, https://www.nia.nih.gov/health/alzheimers-disease-fact-sheet.
8
Lattanzi S, Brigo F, Vernieri F, Silvestrini M. Visit-to-visit variability in blood pressure and Alzheimer's disease. J Clin Hypertens (Greenwich). 2018 May;20(5):918-924. doi: 10.1111/jch.13290. Epub 2018 Apr 25. PMID: 29693801; PMCID: PMC8031352.
9
Chen B, Marquez-Nostra B, Belitzky E, et al. PET Imaging in Animal Models of Alzheimer's Disease. Front Neurosci. 2022;16:872509. Published 2022 May 24. doi:10.3389/fnins.2022.872509
10
FOR HEALTHCARE PROFESSIONALS Frequently asked questions about beta-amyloid imaging. (2021) https://www.alz.org/media/documents/health-care-pros-faqs-beta-amyloid-imaging.pdf
11
"About Us New IDEAS Study." About Us, https://www.ideas-study.org/About-Us#:~:text=The%20New%20IDEAS%20study%20will%20also%20have%20two%20additional%20objectives,have%20consented%20to%20blood%20collection.
12
"Monoclonal Antibodies Directed against Amyloid for the Treatment of Alzheimer's Disease." CMS.gov Centers for Medicare & Medicaid Services, https://www.cms.gov/medicare-coverage-database/view/ncacal-decision-memo.aspx?proposed=Y&NCAId=305.
13
Kumar A, Chugani HT. The role of radionuclide imaging in epilepsy, Part 1: Sporadic temporal and extratemporal lobe epilepsy. J Nucl Med. 2013;54(10):1775-1781. doi:10.2967/jnumed.112.114397
14
Hodolic M, Topakian R, Pichler R. (18)F-fluorodeoxyglucose and (18)F-flumazenil positron emission tomography in patients with refractory epilepsy. Radiol Oncol. 2016;50(3):247-253. Published 2016 Jul 19. doi:10.1515/raon-2016-0032
15
"4 Types of Epilepsy, Their Symptoms, and Treatments." Medical News Today, MediLexicon International, https://www.medicalnewstoday.com/articles/types-of-epilepsy#contacting-a-doctor.
Sarikaya I. PET studies in epilepsy. Am J Nucl Med Mol Imaging. 2015;5(5):416-430. Published 2015 Oct 12
16
Fisher, Dr. Robert S, et al. "Operational Claissification of Seizure Types by the International League Against Epilepsy' Position Paper of the ILAE Commission for Classification and Terminology." Https://Onlinelibrary.wiley.com/Doi/Epdf/10.1111/Epi.13670, Wiley Online Library, 8 Mar. 2017, https://onlinelibrary.wiley.com/doi/epdf/10.1111/epi.13670.
17
Stanescu, Luana, et al. "FDG Pet of the Brain in Pediatric Patients: Imaging Spectrum with MR Imaging Correlation." RadioGraphics, 30 Aug. 2013, https://pubs.rsna.org/doi/10.1148/rg.335125152.
18
CMS.GOV. "FDG Pet for Refractory Seizures." CMS.gov Centers for Medicare & Medicaid Services, https://www.cms.gov/medicare-coverage-database/view/ncd.aspx?NCDId=294&NCDver=1.