ARTIS icono provides you with new functionalities to increase confidence in neurointerventional imaging. In stroke diagnosis, new 3D trajectories decrease artifacts in the base of the brain and help you visualize collateral vessels. In AVM treatment, 4D imaging yields valuable flow information to evaluate complex AVM anatomy. Performing intricate device placement for aneurysm intervention requires excellent image quality. OPTIQ provides constant, balanced image quality and dose parameters, automatically.
The system now switches effortlessly between 2D and 3D imaging and offers faster, more precise cone beam CT images, even in challenging areas like the skull base. ARTIS icono biplane is literally expanding precision medicine to advance therapy outcomes in neuro interventions.
Confidence in interventional imaging
Prof. Chapot, MD, talks about the benefits of ARTIS icono biplane for interventional neuroradiology and fast stroke treatment.1
syngo DynaCT Sine Spin takes cone beam CT of the brain to the next level.
With a conventional and pure LAO/RAO spin, a clear delineation of the basal part of the brain is limited by the surrounding bony structures. syngo DynaCT Sine Spin uses a new trajectory to minimize artifacts arising from these bones.
syngo DynaCT Multiphase supports sounder treatment decisions before performing mechanical thrombectomy and saves time by visualizing collateral vessels right in the angio suite.
Time-resolved 3D information helps you fully understand complex AVM anatomy when planning treatment. syngo Dyna4D is a Siemens Healthineers exclusive feature that combines 3D vessel tree and temporal blood flow visualization.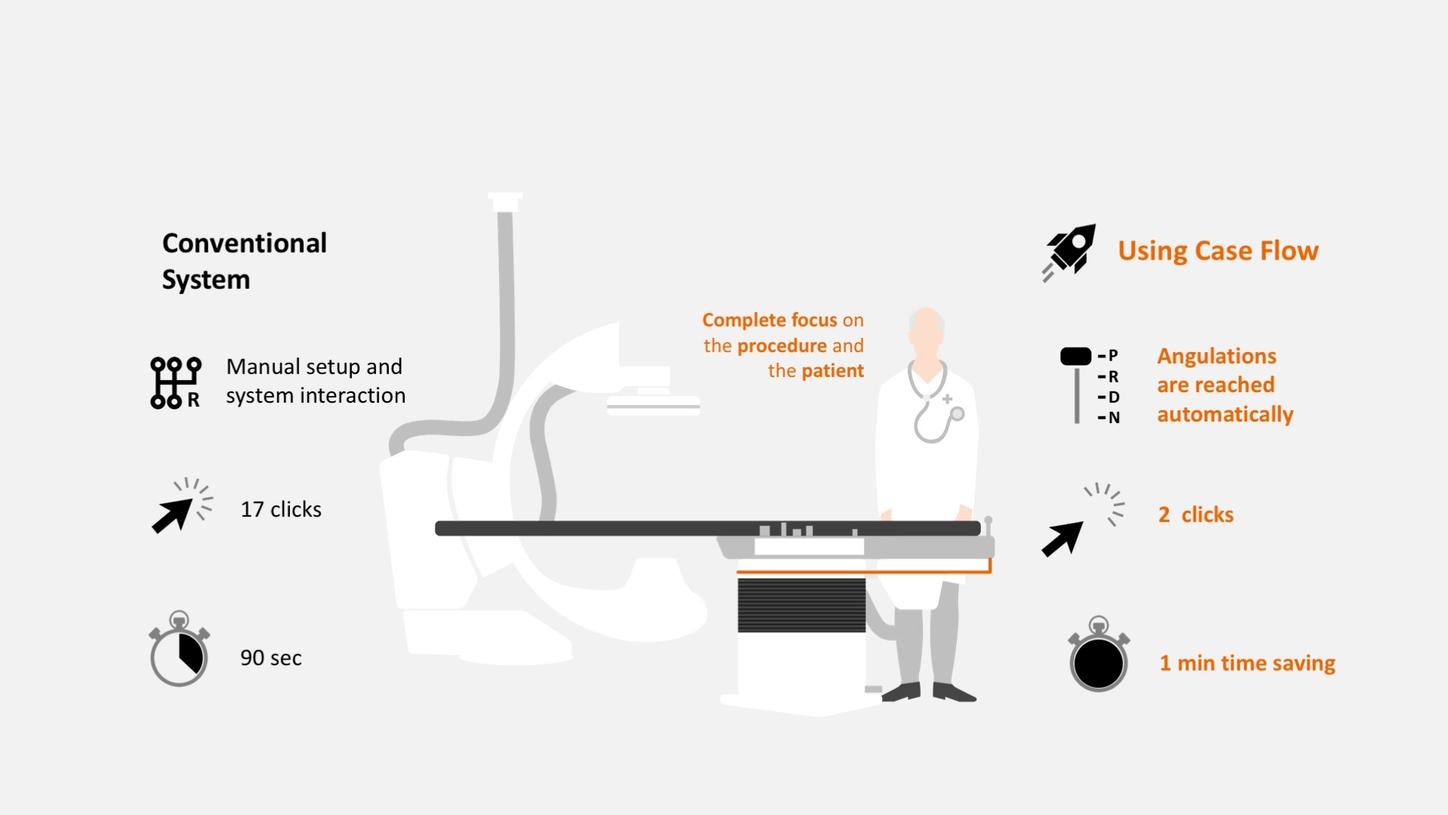 With a conventional system, up to 17 clicks may be done to perform an ideal femoral access which may take up to 90 seconds. With Case Flows, angulations are automatically reached and imaging parameters are set automatically, requiring as little as 2 clicks.
Seamless switching between 2D and 3D
With Twin Spin, you can now easily switch between 2D and 3D imaging for the first time ever, making 3D preparation and acquisition faster. There's no need to park the lateral plane prior to 3D imaging with the floor stand, and AP and lateral isocentering is performed in a single step – no need to move system components.
Less risk of equipment collisions, e.g. with anaesthesia
Facilitates utilization of DynaCT
Makes procedures faster
 
OPTIQ – a new approach to image quality and dose
OPTIQ allows you to pre-set noise and contrast levels and automatically adjusts to your image quality preferences at low dose – no matter the patient's BMI, C-arm angulation or procedure.
Your pre-set image quality level is maintained automatically throughout the procedure. For maximum dose efficiency, this innovative solution uses a contrast-driven technique based on automatic parametrization supported by intelligent, self-adjusting algorithms.
Siemens Healthineers exclusive 5-parameter-driven exposure control taken to the next level
SID and collimation settings are automatically taken into account
Constant image quality
Structure Scout for material- and procedure-specific imaging
 
Multidisciplinary Room Sharing
Neurointervention and Cardiology
ARTIS icono biplane adapts to the different needs of neuroradiologists and cardiologists in 90 seconds. Just press a button, and the Lateral Plane Switch automatically moves the lateral plane to your preferred position.
Side of the operator: reduced scattered radiation dose during Neurointervention
Left side of the patient: optimal cardiac image quality
 
Neurointervention and Body Vascular IR
When body interventionalists share a lab with neuroradiologists, 2D and CBCT coverage in the lower abdomen (e.g. TACE and PAE) can be a challenge. ARTIS icono biplane provides full body (5.4 ft) coverage with the lateral plane for 2D and 3D abdominal coverage2 without repositioning the patient.
2D and syngo DynaCT imaging with the lateral plane during PAE and UFE procedures2
Easy head access for anesthesia during 2D and 3D imaging (lateral plane parke
By clicking Submit you consent to the processing of your above given personal data by the Siemens Healthineers company referred to under
Corporate Information
and for the purpose described above. Further information concerning the processing of your data can be found in the
Data Privacy Policy
. You are aware that you can partially or completely revoke this consent at any time for the future. Please declare your revocation to the contact address given in the Corporate Information and sent it to us via the following e-mail address:
dataprivacy.func@siemens-healthineers.com
.