As additional treatments are moved to a minimally invasive approach and as those procedures themselves become increasingly complex—are you ready? 
Being able to accommodate a variety of procedure types while minimizing cost is becoming more critical. For example, transradial procedures can shorten the post-procedural stay by 50% to one hour.1 This allows you to optimize patient care and efficiency, thereby improving clinical outcomes
ARTIS icono: 
Supports multispecialties sharing one room, for example, interventional oncology and neurointerventional surgery.
Has revolutionary flexibility to support a wide range of procedures.
Introduces a groundbreaking dose-image optimization tool, called OPTIQ, to automatically select a low dose for your preferred image quality - regardless of the patient's BMI.
Expedites procedures by automatically adjusting system and imaging parameters before and during the interventions.
Expands procedure types in a space-conscious environment. 
Improve utilization and expand your reach
ARTIS icono: a 3-in-1 system that expands clinical capabilities and may boost financial performance.
Positioning and system flexibility
ARTIS icono floor supports a wide range of IR procedures, including new trends such as radial access. With 6.8 ft patient coverage and an unparalleled 6.2 ft lateral coverage, it handles even your largest patients with ease.
The fully motorized ARTIS icono multiaxis floor stand enables hands-free positioning. The extended parking position enables comfortable patient transfers – and shifts quickly to the emergency position when necessary.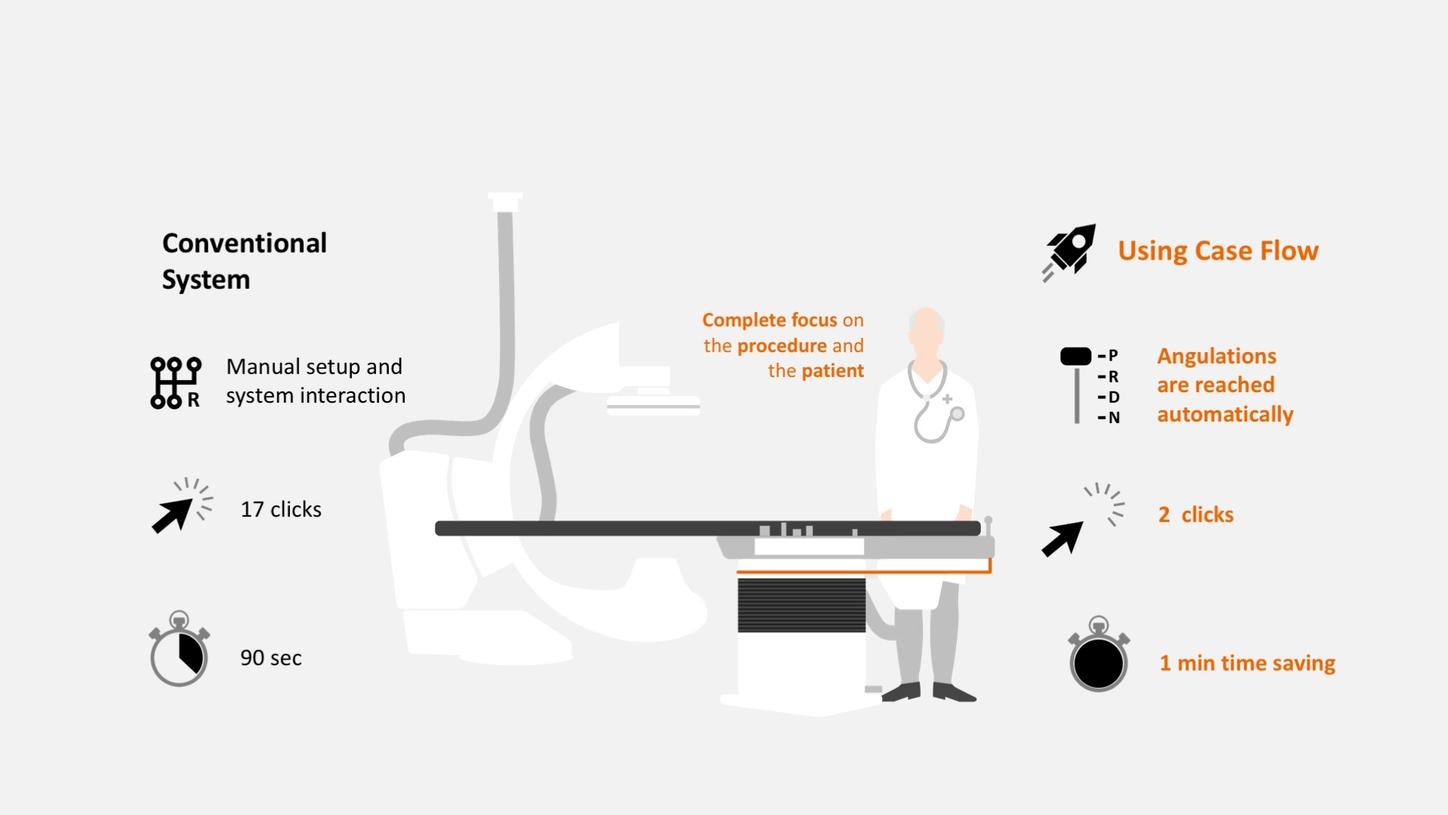 With a conventional system, up to 17 clicks may be done to perform an ideal femoral access which may take up to 90 seconds. With Case Flows, angulations are automatically reached and imaging parameters are set automatically, requiring as little as 2 clicks.
Positioning and system flexibility
Motorized system positioning: optimal patient access for all procedures, including radial access. ARTIS icono floor can achieve a wide range of positions and angulations.
OPTIQ – a new approach to image quality and dose
OPTIQ allows you to pre-set noise and contrast levels and automatically adjusts to your image quality preferences at low dose – no matter the patient's BMI, C-arm angulation or procedure.
Your pre-set image quality level is maintained automatically throughout the procedure. For maximum dose efficiency, this innovative solution uses a contrast-driven technique based on automatic parametrization supported by intelligent, self-adjusting algorithms.
Siemens Healthineers exclusive 5-parameter-driven exposure control taken to the next level
SID and collimation settings are automatically taken into account
Constant image quality
Structure Scout for material- and procedure-specific imaging
 
Structure Scout offers us outstanding device visibility at impressively low radiation dose. This gives us great confidence even during the most challenging procedures in personalized vascular medicine and interventional oncology.2
Multidisciplinary Room Sharing
Neurointervention and Cardiology
ARTIS icono biplane adapts to the different needs of neuroradiologists and cardiologists in 90 seconds. Just press a button, and the Lateral Plane Switch automatically moves the lateral plane to your preferred position.
Side of the operator: reduced scattered radiation dose during Neurointervention
Left side of the patient: optimal cardiac image quality
 
Neurointervention and Body Vascular IR
When body interventionalists share a lab with neuroradiologists, 2D and CBCT coverage in the lower abdomen (e.g. TACE and PAE) can be a challenge. ARTIS icono biplane provides full body (5.4 ft) coverage with the lateral plane for 2D and 3D abdominal coverage3 without repositioning the patient. 

2D and syngo DynaCT imaging with the lateral plane during PAE and UFE procedures3
Easy head access for anesthesia during 2D and 3D imaging (lateral plane parked)
Cardiology and Body Vascular
ARTIS icono floor gives you excellent peripheral and lateral coverage to support vascular interventions, plus steep angulations that facilitate cardiac diagnosis and treatment. syngo DynaCT delivers CBCT soft tissue imaging in scan times as low as 4 seconds, and multimodality imaging support (e.g. integrated wireless Ultrasound) offers invaluable assistance during complex treatments.
Feature sets for peripheral diagnosis and stenting, TACE, RFA and EVAR
Supports cardiac interventions in coronary artery disease, structural heart disease and electrophysiology, TAVR
 
Multidisciplinary usage – ARTIS icono floor
ARTIS icono floor is the cost-effective solution to the growing need for maximum versatility in the interventional suite.
By clicking Submit you consent to the processing of your above given personal data by the Siemens Healthineers company referred to under
Corporate Information
and for the purpose described above. Further information concerning the processing of your data can be found in the
Data Privacy Policy
. You are aware that you can partially or completely revoke this consent at any time for the future. Please declare your revocation to the contact address given in the Corporate Information and sent it to us via the following e-mail address:
dataprivacy.func@siemens-healthineers.com
.