OPTIQ – a new approach to image quality and dose
OPTIQ allows you to pre-set noise and contrast levels and automatically adjusts to your image quality preferences at low dose – no matter the patient's BMI, C-arm angulation or procedure.
Your pre-set image quality level is maintained automatically throughout the procedure. For maximum dose efficiency, this innovative solution uses a contrast-driven technique based on automatic parametrization supported by intelligent, self-adjusting algorithms.
Siemens Healthineers exclusive 5-parameter-driven exposure control taken to the next level
SID and collimation settings are automatically taken into account
Constant image quality
Structure Scout for material- and procedure-specific imaging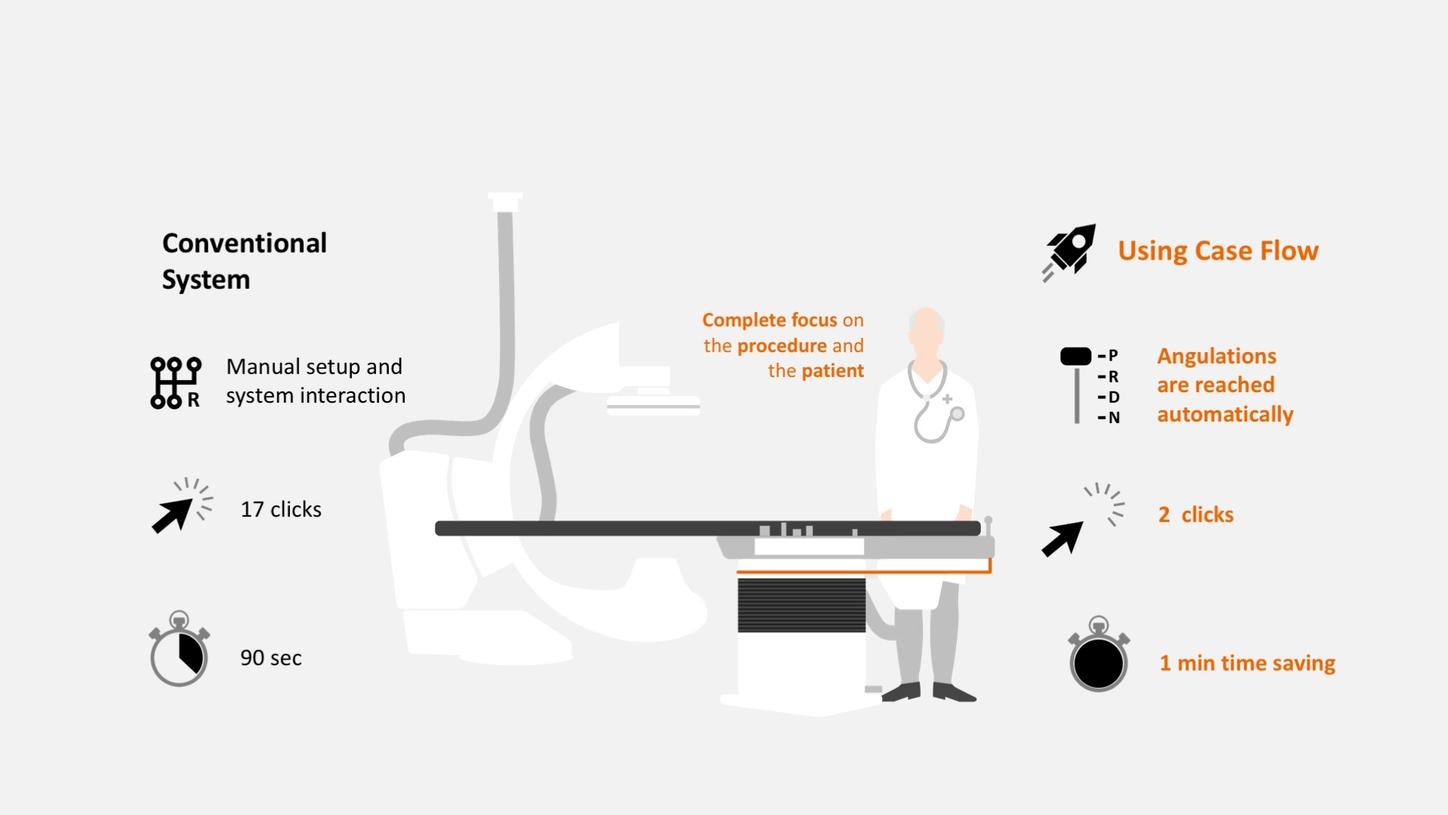 With a conventional system, up to 17 clicks may be done to perform an ideal femoral access which may take up to 90 seconds. With Case Flows, angulations are automatically reached and imaging parameters are set automatically, requiring as little as 2 clicks.
Positioning and system flexibility
Motorized system positioning: optimal patient access for all procedures, including radial access. ARTIS icono floor can achieve a wide range of positions and angulations.
Next-Generation Open Connectivity
Third Party Broker for next-level connectivity and communication
Connect different systems via standard protocols and a unified interface
Enables research in medical engineering and the development of new and in-house applications
Connection to Siemens Healthineers Digital Ecosystem 
Prof. Achenbach, MD, talks about the benefits of ARTIS icono floor for cardiovascular interventions.1
Prof. Meyer, MD, on the benefits of Case Flows for optimal imaging parameters.
Each therapy step has its optimal imaging parameters, but it's tedious to consequently adapt them throughout the clinical procedure. Case Flows combine the multitude of system settings into a one-click selection for each workflow step, resulting in a full utilization of my system's capabilities in daily routine.1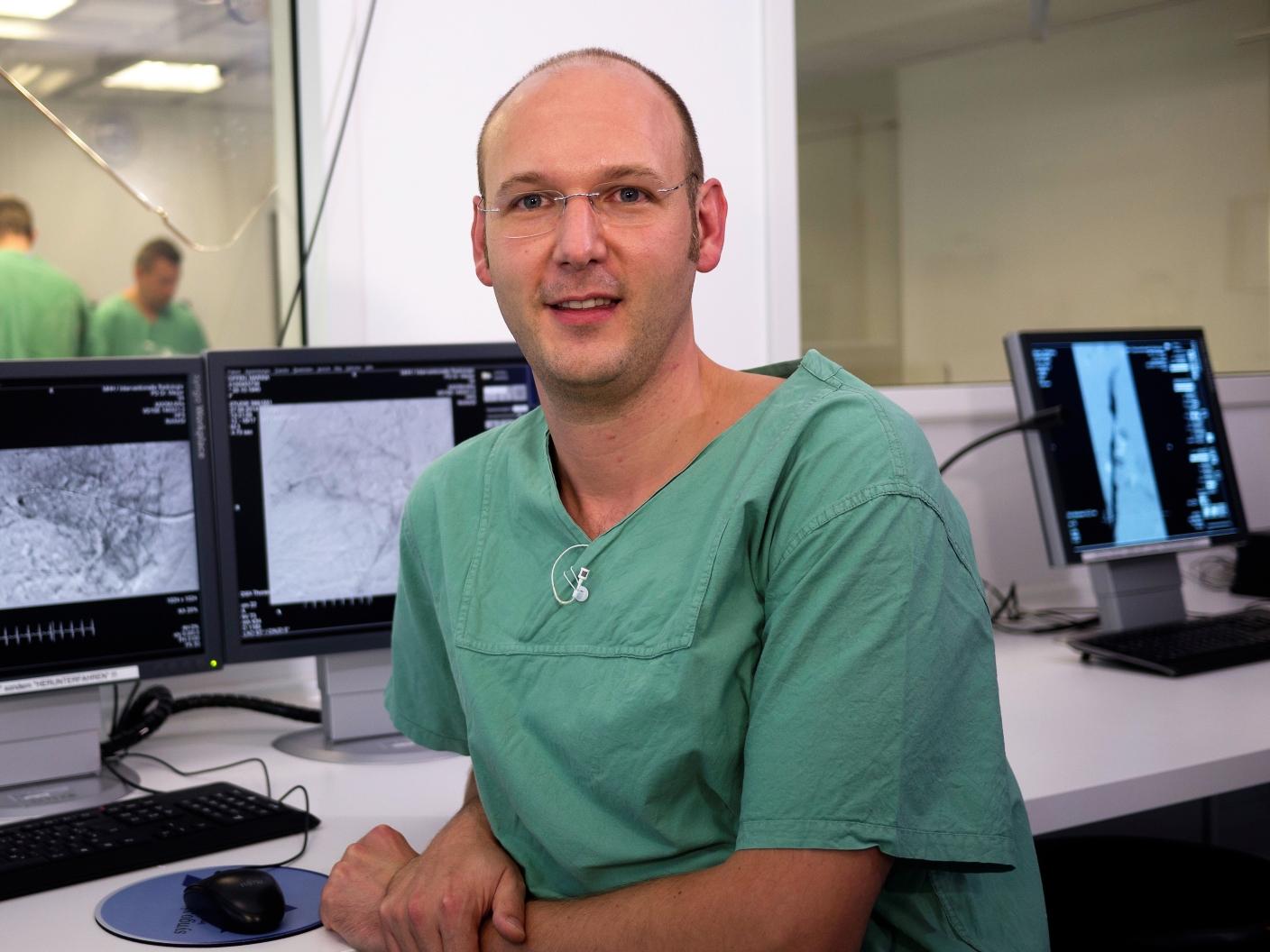 Optimize clinical operations for cardiovascular surgery
Transform your existing OR into a Hybrid OR with ease
Sufficient patient coverage is key for imaging
Patient obesity should not create any obstacles for imaging and surgery
Budgetary constraints must be met before and after installation
Hospital-acquired infections are creating big challenges these days and must be addressed by a modern system
 
Challenges in Hybrid OR installation and hygiene
Installation costs of a typical Hybrid OR. ARTIS icono floor is the budget-friendly solution for Hybrid ORs. This versatile system requires practically no effort for ceiling construction or special floor preparation.
Transform your existing OR into a Hybrid OR with ease
ARTIS icono floor is the cost-efficient way to turn your existing OR into a hybrid operation room. Highlights include full tableside integration, fully motorized movements of the C-arm to all imaging positions and angulations. ARTIS icono floor has a small footprint (technically starting at 269 sq. ft.) and is designed for easy installation.
Full feature set for vascular interventions, e.g peripheral diagnosis and stenting like TAVR, (F)EVAR, MitralClips
Integration with Sensis® Vibe
Multimodality imaging for complex treatments
 
Sufficient patient coverage is key for imaging
ARTIS icono floor offers a full motorized movement of the C-arm to image 6.8 feet in patient direction plus a simple transition from imaging to surgery without the need to reposition the patient. Peripheral imaging of tall patients is possible in the "head first" position. The extended parking position delivers comfortable patient transfers, and you can transfer quickly to the emergency position whenever the need arises.
 
By clicking Submit you consent to the processing of your above given personal data by the Siemens Healthineers company referred to under
Corporate Information
and for the purpose described above. Further information concerning the processing of your data can be found in the
Data Privacy Policy
. You are aware that you can partially or completely revoke this consent at any time for the future. Please declare your revocation to the contact address given in the Corporate Information and sent it to us via the following e-mail address:
dataprivacy.func@siemens-healthineers.com
.