2020 was an unprecedented year for in vitro diagnostics. Although a large number of medical decisions have always been based on diagnostic tests, the need for laboratory diagnostic procedures has never been greater in the face of the pandemic. Against this background, this year's AACC Annual Scientific Meeting & Clinical Lab Expo from December 13 to 17, which took place virtually for the first time in its history, presented highly automated solutions that minimize contact and increase laboratory efficiency and safety. The congress was closely accompanied by the Siemens Healthineers Shape 21 Forum.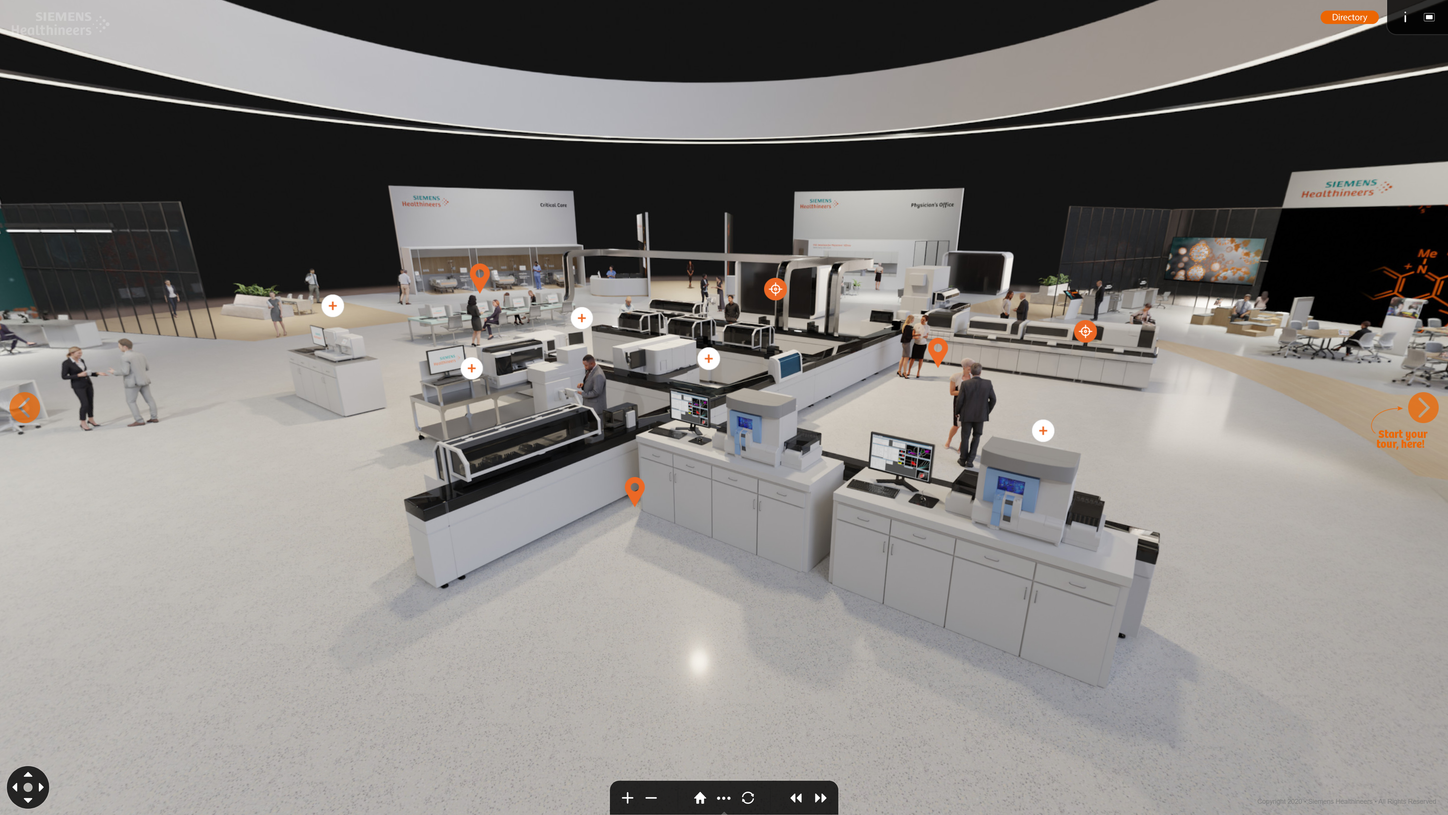 Our latest innovations in laboratory diagnostics
Explore the power of intelligent analyzers, diagnostics IT applications, and automation to accelerate workflows:

Atellica Decapper®1 and Atellica Asa™ Application2 – Continued innovation brings more productivity to laboratories
The Atellica® solution, which is already established in everyday clinical practice, offers a flexible, scalable, automation-ready portfolio of analytical instruments for laboratories with medium to high work volumes. This innovation is now being expanded to include Atellica Decapper® and Atellica Asa™ Application.
Atellica Decapper® – More efficiency in the laboratory diagnostic workflow
The Atellica Decapper®, an integrated decapping solution for systems that do not interface with automation, is designed to help save valuable pre-analytical time to enhance workflow and reduce the so-called "turn-around-time" (TAT). Depending on decapper modules, it allows decapsulation of about 300 - 500 tubes per hour, as well as user-defined sorting and archiving via test phases to reduce manual tasks.
Atellica Asa™ Application – Designed to simplify daily operator interactions
The next innovation is the Atellica Asa™ Application, a wireless application to run on mobile devices, such as a tablet. Asa is designed to provide a highly intuitive, task-based mobile application organizing key tasks and drawing attention to the most common, yet critical procedures. This allows users to confidently walk away from the system and return only when necessary. Asa will monitor and control a single Atellica Solution configuration and serve as a trusted assistant.

On the horizon: Expanded power of Atellica Solution to more market segments
Siemens Healthineers is developing another innovative immunoassay and chemistry analyzer in the Atellica family. It is designed to utilize the same technology, intelligent software, testing methodologies, and broad test menu as the currently available Atellica Solution — but will have a smaller footprint. This integrated chemistry and immunoassay analyzer is intended for laboratories that have lower throughput requirements and / or more limited space.
The combination of the Atellica Solution and this complementary innovation are expected to deliver high-quality, standardized results no matter where the patient is tested.
An excerpt of our contribution in the fight against the pandemic
Dive into a full range of antibody, antigen, and molecular SARS-CoV-2 tests that can contribute to the new normal:

SARS-CoV-2 IgG Antibody Test3,4 , and SARS-CoV-2 Total Assay3
Detecting the level of an individual´s immune response
Detecting neutralizing antibodies is a key element in the fight against COVID-19, as these antibodies are able to prevent the virus from entering cells in the body. Neutralizing antibodies can occur as a reaction to a natural infection or vaccination. These new tests are gaining in importance as it could verify the success of broad-based vaccination programs.
FTD SARS-CoV-2 real-time PCR assay3 - Detecting the RNA of the coronavirus
The new FTD SARS-CoV-2 Assay is a PCR test that can provide real-time detection of the novel coronavirus SARS-CoV-2, which causes COVID-19. The test uses the same assay setup protocol and thermal-cycling profile as all FTD respiratory disease kits and is designed for high sensitivity, specificity, and inclusivity. In performing the test, two highly conserved regions of the SARS-CoV-2 genome are examined to obtain even better laboratory diagnostic results.
SARS-CoV-2 IgM/IgG Rapid Antibody Test5, CLINITEST® Rapid COVID-19 Antigen Test5, and end-to-end blood gas solutions6 – Delivering real-time solutions at the point of care
From rapid antigen and antibody tests, to blood gas solutions, to the comprehensive portfolio of products for monitoring cardiac, metabolic, and kidney function—point-of-care solutions are everywhere where rapid, real-time results are needed.
The latest solutions are designed to provide professionals with the resources and diagnostic tools they need to care for their patients during this challenging global pandemic and beyond.The SARS-CoV-2 IgM/IgG Rapid Antibody Test is designed to detect whether an individual has had an immune response to a recent or prior infection with the SARS-CoV-2 virus and includes a finger prick sample collection and visual read—thus no instruments are needed.
The CLINITEST® Rapid COVID-19 Antigen Test is developed to detect the presence of SARS-CoV-2 to quickly identify individuals with acute infections. It can be easily administered by a trained professional without specialized laboratory equipment or lab personnel. The latest handheld and benchtop blood gas products, whether in a laboratory or for bedside testing, are being used every day in the care of ventilator-assisted patients.