Luminos Fusion
The 2-in-1 Fluoroscopy system that fits your needs and fits your budget
Healthcare providers around the world benefit from Luminos Fusion. With its 2-in-1 capabilities, this fluoroscopy machine solves the challenge of meeting your needs within your budget in both radiography and fluoroscopy. Resulting in an investment that fits. 
Fits your needs
The digital fluoroscopy machine Luminos Fusion fits your needs with MAX image quality in a large image, safe and intuitive design, and outstanding dose saving.
43 x 43 – Large 43 cm x 43 cm MAX dynamic flat detector1 for excellent patient coverage
SmartTouch – Touch-sensitive joysticks that are only active with the touch of a human hand improve safety for patients and staff
Fits your budget
Luminos Fusion is a digital fluoroscopy machine that fits your budget with proven 2-in-1 efficiency and our 1 customer experience with industry-leading technologies from our high-end systems. Resulting in an investment that fits.
Proven 2-in-1 efficiency – for high room utilization with both fluoroscopy and radiography
1 customer experience with technology from Siemens Healthineers high-end systems across radiography, fluoroscopy, Twin Robotic and mobile X-ray
Dr Yin Hua Bin on working with Luminos Fusion
Dr Yin Hua Bin, at The Fifth People's Hospital Shanghai, performs over 50 X-ray exams per day with Luminos Fusion. Listen to Dr. Yin talking about his experience with the system.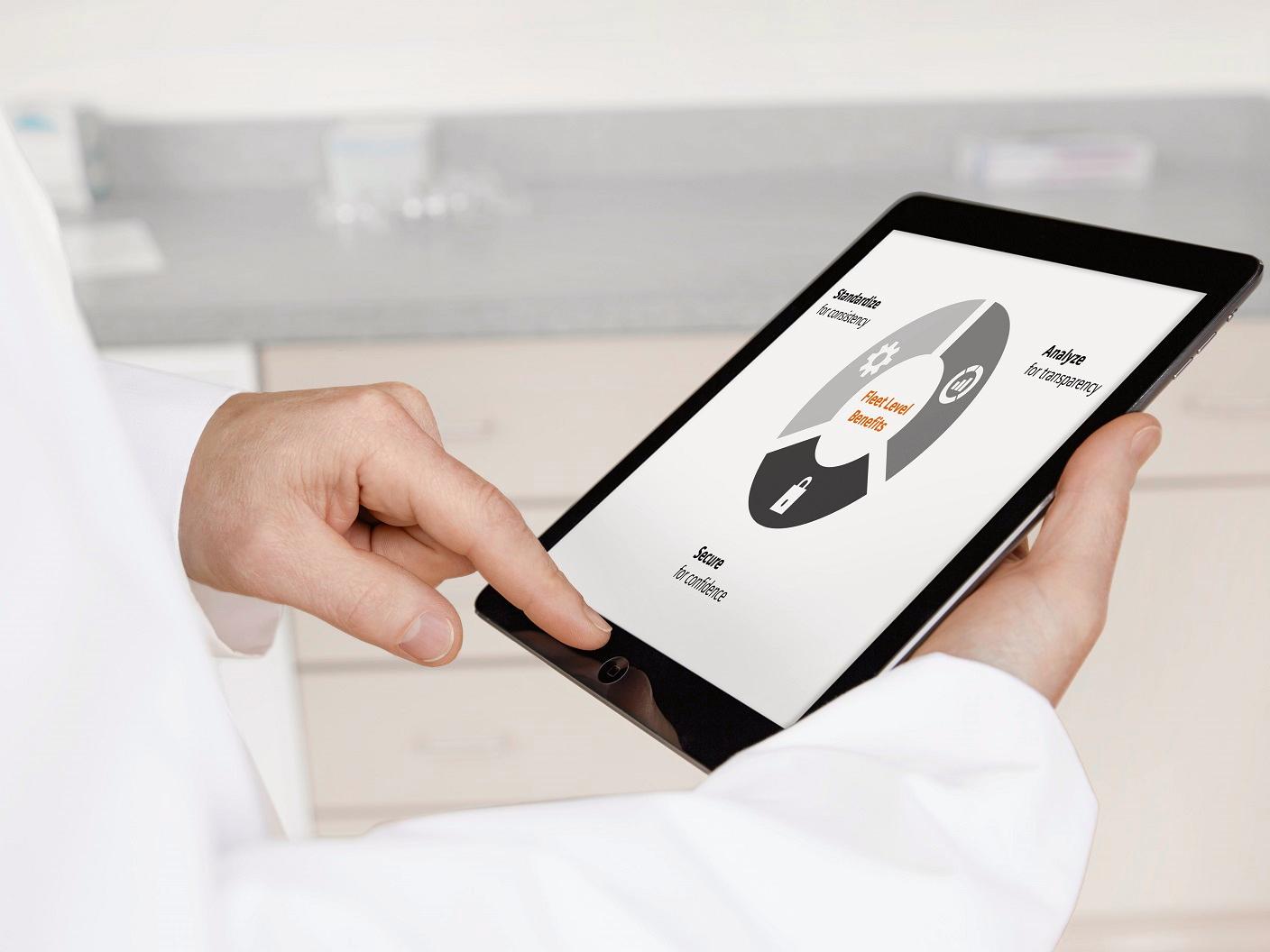 Fleet Level Benefits - unlock your potential and increase the efficiency of your X-ray department
High complexity in diagnostic imaging makes it challenging to run the radiology department efficiently. Siemens Healthineers helps you to reduce complexity by offering specific solutions across the entire X-ray portfolio which let you standardize, analyze and secure the imaging fleet. In this way, you can gain valuable Fleet Level Benefits: consistency, transparency and confidence. This results in improved outcomes, increased efficiency and greater staff and patient satisfaction.
Standardize for consistency
Analyze for transparency
Secure for confidence
Luminos Fusion: Discover the great versatility of this Siemens Healthineers digital fluoroscopy machine in both radiographic and fluoroscopic examinations.
Dr. Wallentin and Luminos Fusion FD – More enjoyment at work2
In his private practice in Kirchdorf, Austria, Dr. Wallentin performs 100-150 examinations per day, the majority of which are conventional radiographic exposures. Find out what he considers the benefits of his Luminos Fusion FD.
Patient table and tabletop

Table height: 89 cm; Table tilt: +90°/-17°;
Max. patient weight: 200 kg;
Motorized longitudinal tabletop travel: 160 cm

Source-image distance (SID)

Max dynamic flat detector1

43 cm x 43 cm; Cesium iodide scintillator; 3.4 lp/mm

Anode heat storage capacity: 580,000 J (783,000 HU)

SmartTouch: touch sensitive joysticks; comprehensive table-side controls

MAX image quality1 with DiamondView Plus1, Digital Density Optimization and Auto Window

Combined Applications to Reduce Exposure incl. CAREPROFILE1 and CAREPOSITION1 for radiation-free collimation and positioning.

Travel range from 35 cm to 180 cm

Ceiling suspended X-ray tube

180 cm vertical travel range; complete system operation from a single integrated control console

Digital Substraction Angiography

Online DSA with remasking, pixel shift, landmark, peak opacification and roadmap

Linear tomo technique (planigraphy) with 115 cm SID

Scanning acquisition of long leg and long spine images on the patient table, automatic composing of images on syngo FLC or a separate workstation
Did this information help you?
2The statements by Siemens Healthineers customers described herein are based on results that were achieved in the customer's unique setting. Since there is no "typical" hospital and many variables exist (e.g. hospital size, case mix, level of IT adoption) there can be no guarantee that other customers will achieve the same results.