SOMATOM Definition Edge
Exceeding expectations
Confronted with increasingly complex clinical requirements and rising numbers of patients, medical institutions are expected to perform at the limits of capacity every day. SOMATOM Definition Edge helps you not only meet, but exceed these expectations by improving your institution's process efficiency and patient outcome in all clinical capabilities – from contrast media-efficient TAVI planning to precise therapy response management, from low dose therapy control to optimized emergency care workflow.
Exceeding expectations in Cardiology
Making highly precise plaque differentiation part of your clinical routine will not only improve patient outcome, but also increase process efficiency, as unmistakingly clear findings will drastically reduce the number of discussions about the state of the plaque. Covering greater volumes faster, improving contrast media efficiency in low kV TAVI planning, and introducing reliable, high-speed triple rule-out scanning will expand your institution's clinical capabilities – and help you exceed the expectations that come with increasingly complex cardiac cases.
How is this possible? Learn more about the new Stellar detector and the Straton MX X-ray tube.
Exceeding expectations in Emergency Medicine
Emergency scanning is as much about time as it is about image quality. You will be able to optimize process efficiency with solutions that let you not only improve emergency workflow but also substantially reduce door-to-image time, from pediatric to obese patients. SOMATOM Definition Edge enables excellent tissue evaluation, allows for the scanning of pediatric and obese patients without dose discussions, and facilitates a minimized sedation and breath hold with a pitch of 1.7 at 23 cm/sec, so you can reduce door-to-image and optimize your overall emergency workflow. Learn more about the Stellar detector and the Straton MX X-ray tube, our complete FAST CARE technology, Adaptive 4D Spiral Plus, TrueSignal technology, Tin Filter technology, and iMAR3.
Exceeding expectations in Oncology
With around a quarter of therapies adjusted after response assessment, a key challenge in oncology is finding out if the tumor is responsive to therapy. Making therapy response assessment faster, more reliable, and easier to manage, will directly benefit your workforce as well as your patients. Expanding your clinical capabilities with improved, low dose therapy control, and CT-based early tumor identification will benefit your institution both in daily practice and in the long run: the more reliable and dose-efficient the technology gets, the greater its role will become for preventive care, as well.
Find out how ADMIRE2, Tin Filter technology, Adaptive 3D Intervention Suite, TwinBeam Dual Energy and True Dual Energy CT Applications make it happen.
Thorax, Abdomen, Pelvis Imaging
02
Thorax, Abdomen, Pelvis Imaging
01
AuSn 120 kV, 298 eff. mAs 
Scan time: 8 s
Scan length: 218 mm
CTDIvol: 6.4 mGy
DLP: 141 mGy*cm
Eff. dose: 0.11 mSv
Gout evaluation with TwinBeam Dual Energy
Courtesy of Luzerner Kantonsspital, Luzern, Switzerland
Without contrast
100 kV, 422 eff. mAs
Scan time: 12.0 s
Scan length: 170 mm
CTDIvol: 40.83 mGy
DLP: 704 mGy*cm
Eff. dose: 1.47 mSv
With contrast
100 kV, 422 eff. mAs
Scan time: 12.0 s
Scan length: 170 mm
CTDIvol: 40.92 mGy
DLP: 706 mGy*cm
Eff. dose: 1.48 mSv
Head sequence without and with contrast
Excellent tissue differentiation
Courtesy of CIMOP Bizet, Paris, France
120 kV, 121 mAs
Scan time: 12 s
Scan length: 49 mm
CTDIvol: 27.08 mGy
DLP: 148 mGy*cm
Eff. dose: 0.46 mSv
z-UHR scan of inner ear
Higher spatial resolution reveals great details 
Courtesy of CIMOP Bizet, Paris, France
VPCT:
80 kV, 200 mAs 
Scan time: 44.0 s
Scan length: 90 mm
CTDIvol: 237.49 mGy
DLP: 2,800 mGy*cm 
Eff. dose: 5.88 mSv 
CTA: 
120 kV, 211 mAs
Scan time: 6.0 s
Scan length: 370 mm
CTDIvol: 18.47 mGy
DLP: 724 mGy*cm
Eff. dose: 3.04 mSv
Comprehensive stroke assessment
Stroke workflow with Adaptive 4D Spiral 
Courtesy of LMU Grosshadern, Munich, Germany
Sn100 kV, 392 mAs 
Scan time: 4 s 
Scan length: 117 mm
CTDIvol: 3.06 mGy
DLP: 42.6 mGy*cm
Eff. dose: 0.09 mSv 
Ultra-low-dose sinus imaging for chronic sinusitis
Tin Filter leads to excellent image quality at low dose 
Courtesy of GHI Intercommunal Le Raincy Montfermeil, France
100 kV, 10 eff. mAs 
Scan time: 1.9 s
Scan length: 300 mm
CTDIvol: 0.39 mGy
DLP: 15 mGy*cm
Eff. dose: 0.21 mSv 
Stellar detector in combination with SAFIRE to evaluate lung disease with ultra-low-dose scan 
Low-dose lung scan with excellent diagnostic details 
Courtesy of CIMOP Bizet, Paris, France
120 kV, 258 eff. mAs 
Scan time: 7.78 s
Scan length: 537 mm
CTDIvol: 17.47 mGy
DLP: 883.56 mGy*cm
Eff. dose: 13.25 mSv
Obese patients in Emergency Medicine
Excellent image quality in obese imaging
Excellent image quality in clinical routine with obese patients with True Signal technology
Courtesy of Hopital St. Louis, France
AuSn 120 kV, 467 eff. mAs 
Scan time: 13.2 s
Scan length: 468 mm
CTDIvol: 10 mGy
DLP: 486.3 mGy*cm
Eff. dose: 7.3 mSv 
TwinBeam Dual Energy enables virtual noncontrast applications for advanced diagnostic image quality 
Courtesy of University Hospital of Basel, Basel, Switzerland
80 kV, 129 eff. mAs 
Scan time: 5.0 s
Scan length: 156 mm
CTDIvol: 8.55 mGy
DLP: 149 mGy*cm
Eff. dose: 1.86 mSv
HR: 61 – 70 bpm
Excellent stenosis evaluation in RCA 
Courtesy of CIMOP Bizet, Paris, France
100 kV, 100 eff. mAs 
Scan time: 5.0 s
Scan length: 154 mm
CTDIvol: 13.12 mGy
DLP: 228 mGy*cm
Eff. Dose: 3.19 mSv
HR: 70 bpm
Calcified plaque and stent in the RCA
Excellent stent evaluation even with high heart rates
Visualization of smallest details even in the lower RCA
Courtesy of CIMOP Bizet, Paris, France
100 kV, 66 mAs 
Scan time: 5.0 s
Scan length: 696 mm
CTDIvol: 2.62 mGy
DLP: 192 mGy*cm
Eff. dose: 2.88 mSv
High-speed triple rule out with 230 mm/s
Courtesy of LMU Grosshadern, Munich, Germany
70 kV, 129 eff. mAs 
Scan time: 2.0 s
Scan length: 267 mm
CTDIvol: 1.35 mGy
DLP: 40 mGy*cm
Eff. dose: 0.56 mSv
Adult imaging with 70 kV SAFIRE lung scan
Low-dose lung scan with excellent diagnostic details 
Courtesy of Linköping University Hospital, Linköping, Sweden
120 kV, 130 eff. mAs 
Scan time: 1.1 s
Scan length: 252 mm
CTDIvol: 8.83 mGy
DLP: 260 mGy*cm
Eff. dose: 3.64 mSv 
Obese patient in emergency medicine (143 kg)
Up to 23 cm/s in clinical routine with a pitch of 1.7
Fast pitch of 1.7 and high rotation speed in clinical routine with obese patients 
Courtesy of Olmsted Medical Center, Rochester, USA
70 kV, 192 eff. mAs 
Scan time: 9.0 s
Scan length: 640 mm
CTDIvol: 2.22 mGy
DLP: 147 mGy*cm
Eff. dose: 2.2 mSv
Adult imaging with 70 kV
Abdomen pelvis low dose-scan
64 cm abdomen/pelvis scan with only 2.2 mSv 
Courtesy of Linköping University Hospital, Linköping, Sweden
100 kV, 4 mAs 
Scan time: 0.6 s
Scan length: 133 mm
CTDIvol: 0.14 mGy
DLP: 2 mGy*cm
Eff. dose: 0.17 mSv
Esophagus stenosis in 9-month-old baby
Fast pitch of 1.7 and high rotation speed offer fast outcome at very low dose with DLP of 2 mGy*cm.
In this case even without sedation 
Courtesy of Linköping University Hospital, Linköping, Sweden
AuSn 120 kV, 298 eff. mAs 
Scan time: 8 s
Scan length: 218 mm
CTDIvol: 6.4 mGy
DLP: 141 mGy*cm
Eff. dose: 0.11 mSv
Gout evaluation with TwinBeam Dual Energy
Courtesy of Luzerner Kantonsspital, Luzern, Switzerland
Without contrast
100 kV, 422 eff. mAs
Scan time: 12.0 s
Scan length: 170 mm
CTDIvol: 40.83 mGy
DLP: 704 mGy*cm
Eff. dose: 1.47 mSv
With contrast
100 kV, 422 eff. mAs
Scan time: 12.0 s
Scan length: 170 mm
CTDIvol: 40.92 mGy
DLP: 706 mGy*cm
Eff. dose: 1.48 mSv
Head sequence without and with contrast
Excellent tissue differentiation
Courtesy of CIMOP Bizet, Paris, France
120 kV, 121 mAs
Scan time: 12 s
Scan length: 49 mm
CTDIvol: 27.08 mGy
DLP: 148 mGy*cm
Eff. dose: 0.46 mSv
z-UHR scan of inner ear
Higher spatial resolution reveals great details 
Courtesy of CIMOP Bizet, Paris, France
VPCT:
80 kV, 200 mAs 
Scan time: 44.0 s
Scan length: 90 mm
CTDIvol: 237.49 mGy
DLP: 2,800 mGy*cm 
Eff. dose: 5.88 mSv 
CTA: 
120 kV, 211 mAs
Scan time: 6.0 s
Scan length: 370 mm
CTDIvol: 18.47 mGy
DLP: 724 mGy*cm
Eff. dose: 3.04 mSv
Comprehensive stroke assessment
Stroke workflow with Adaptive 4D Spiral 
Courtesy of LMU Grosshadern, Munich, Germany
Sn100 kV, 392 mAs 
Scan time: 4 s 
Scan length: 117 mm
CTDIvol: 3.06 mGy
DLP: 42.6 mGy*cm
Eff. dose: 0.09 mSv 
Ultra-low-dose sinus imaging for chronic sinusitis
Tin Filter leads to excellent image quality at low dose 
Courtesy of GHI Intercommunal Le Raincy Montfermeil, France
100 kV, 10 eff. mAs 
Scan time: 1.9 s
Scan length: 300 mm
CTDIvol: 0.39 mGy
DLP: 15 mGy*cm
Eff. dose: 0.21 mSv 
Stellar detector in combination with SAFIRE to evaluate lung disease with ultra-low-dose scan 
Low-dose lung scan with excellent diagnostic details 
Courtesy of CIMOP Bizet, Paris, France
120 kV, 258 eff. mAs 
Scan time: 7.78 s
Scan length: 537 mm
CTDIvol: 17.47 mGy
DLP: 883.56 mGy*cm
Eff. dose: 13.25 mSv
Obese patients in Emergency Medicine
Excellent image quality in obese imaging
Excellent image quality in clinical routine with obese patients with True Signal technology
Courtesy of Hopital St. Louis, France
AuSn 120 kV, 467 eff. mAs 
Scan time: 13.2 s
Scan length: 468 mm
CTDIvol: 10 mGy
DLP: 486.3 mGy*cm
Eff. dose: 7.3 mSv 
TwinBeam Dual Energy enables virtual noncontrast applications for advanced diagnostic image quality 
Courtesy of University Hospital of Basel, Basel, Switzerland
80 kV, 129 eff. mAs 
Scan time: 5.0 s
Scan length: 156 mm
CTDIvol: 8.55 mGy
DLP: 149 mGy*cm
Eff. dose: 1.86 mSv
HR: 61 – 70 bpm
Excellent stenosis evaluation in RCA 
Courtesy of CIMOP Bizet, Paris, France
100 kV, 100 eff. mAs 
Scan time: 5.0 s
Scan length: 154 mm
CTDIvol: 13.12 mGy
DLP: 228 mGy*cm
Eff. Dose: 3.19 mSv
HR: 70 bpm
Calcified plaque and stent in the RCA
Excellent stent evaluation even with high heart rates
Visualization of smallest details even in the lower RCA
Courtesy of CIMOP Bizet, Paris, France
100 kV, 66 mAs 
Scan time: 5.0 s
Scan length: 696 mm
CTDIvol: 2.62 mGy
DLP: 192 mGy*cm
Eff. dose: 2.88 mSv
High-speed triple rule out with 230 mm/s
Courtesy of LMU Grosshadern, Munich, Germany
70 kV, 129 eff. mAs 
Scan time: 2.0 s
Scan length: 267 mm
CTDIvol: 1.35 mGy
DLP: 40 mGy*cm
Eff. dose: 0.56 mSv
Adult imaging with 70 kV SAFIRE lung scan
Low-dose lung scan with excellent diagnostic details 
Courtesy of Linköping University Hospital, Linköping, Sweden
120 kV, 130 eff. mAs 
Scan time: 1.1 s
Scan length: 252 mm
CTDIvol: 8.83 mGy
DLP: 260 mGy*cm
Eff. dose: 3.64 mSv 
Obese patient in emergency medicine (143 kg)
Up to 23 cm/s in clinical routine with a pitch of 1.7
Fast pitch of 1.7 and high rotation speed in clinical routine with obese patients 
Courtesy of Olmsted Medical Center, Rochester, USA
70 kV, 192 eff. mAs 
Scan time: 9.0 s
Scan length: 640 mm
CTDIvol: 2.22 mGy
DLP: 147 mGy*cm
Eff. dose: 2.2 mSv
Adult imaging with 70 kV
Abdomen pelvis low dose-scan
64 cm abdomen/pelvis scan with only 2.2 mSv 
Courtesy of Linköping University Hospital, Linköping, Sweden
100 kV, 4 mAs 
Scan time: 0.6 s
Scan length: 133 mm
CTDIvol: 0.14 mGy
DLP: 2 mGy*cm
Eff. dose: 0.17 mSv
Esophagus stenosis in 9-month-old baby
Fast pitch of 1.7 and high rotation speed offer fast outcome at very low dose with DLP of 2 mGy*cm.
In this case even without sedation 
Courtesy of Linköping University Hospital, Linköping, Sweden
AuSn 120 kV, 298 eff. mAs 
Scan time: 8 s
Scan length: 218 mm
CTDIvol: 6.4 mGy
DLP: 141 mGy*cm
Eff. dose: 0.11 mSv
Gout evaluation with TwinBeam Dual Energy
Courtesy of Luzerner Kantonsspital, Luzern, Switzerland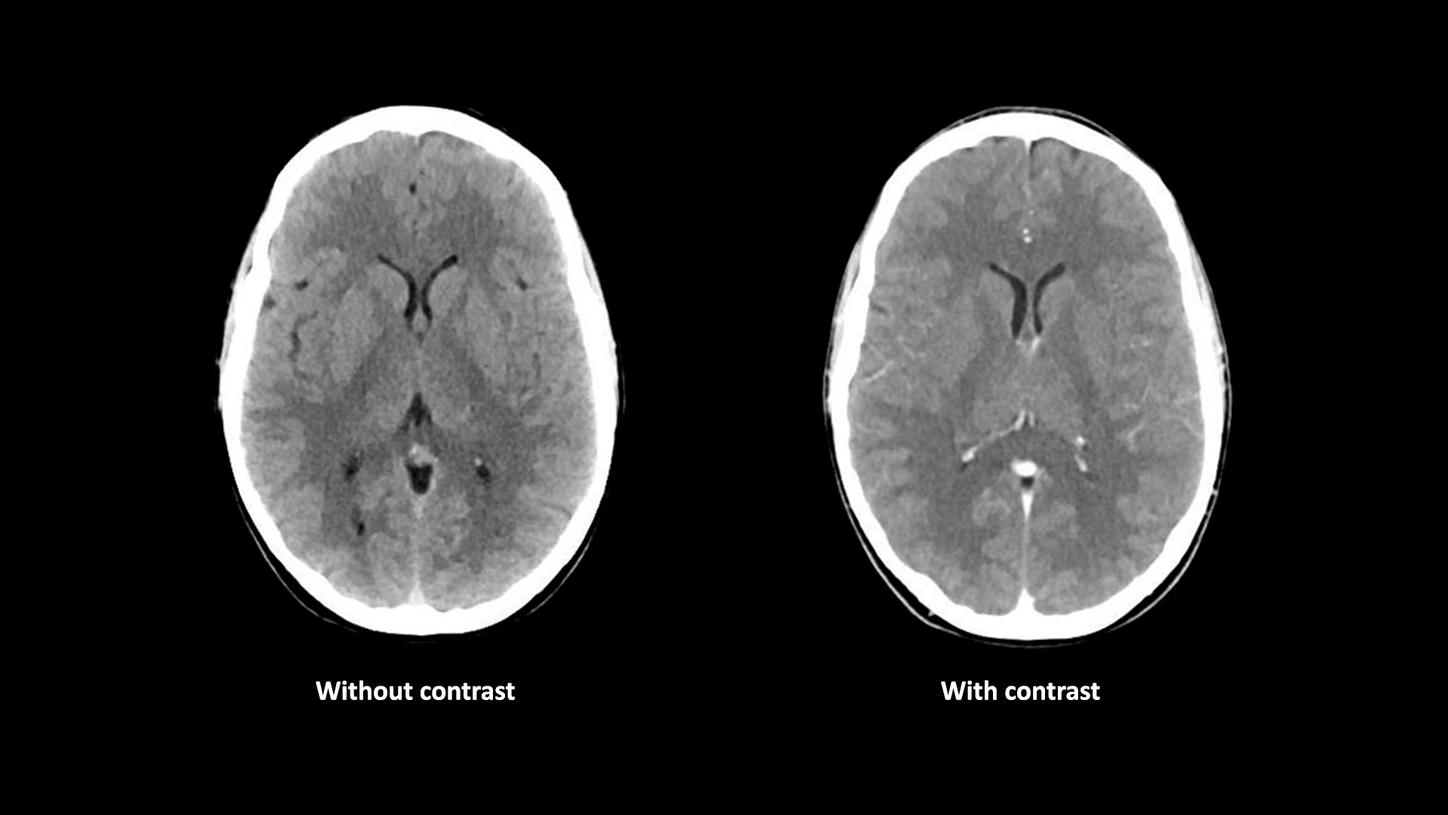 In-plane temporal resolution


500 mA @ 70 kV
650 mA @ 80 kV