EUROSPINE 2020 – The Annual Virtual Meeting
October 6 – 9, 2020

The entire program will be provided twice a day to include all time zones. Exchange knowledge with an international audience.
In the field of spine surgery Siemens Healthineers offers a comprehensive portfolio of intra-operative imaging systems to deliver guidance for degenerative and trauma surgery, deformity surgery, as well as the treatment of spinal tumors. Our portfolio ranges from mobile C-arms and robotic angiography systems to Computed Tomography (CT) and Magnetic Resonance Imaging (MRI).
For more information, please visit the official EUROSPINE website.
Meet-the-expert: Spine Surgery in an hybrid OR Setting
Discover the multidisciplinary use of a robotic hybrid OR setting and join Prof. Braun (Director of the Department of Neurosurgery) and Dr. Fleischhacker (Consulting Trauma Surgeon) from Jung-Stilling-Hospital in Siegen, Germany, presenting a complex case of an avulsion fracture of C1 and C2 on 6th October at 12:20 pm and 6:15 pm at the virtual EUROSPINE2020 congress. Don't miss it!
The Department of Neurosurgery at the Jung-Stilling-Hospital in Siegen, Germany, offers the full range of contemporary neurosurgical procedures including spine surgery.
Currently more than 1,900 neurosurgical procedures are performed annually, ranging from treatment of disc herniation and spinal stenosis, to tumor surgeries, with a clear focus on spinal fusion procedures.
The hospital's two Hybrid ORs are equipped with the robotic imaging system ARTIS pheno and are used by several surgical disciplines – vascular, neuro, spine and trauma surgery. Just recently the set-up has evolved into that of an interdisciplinary spine center.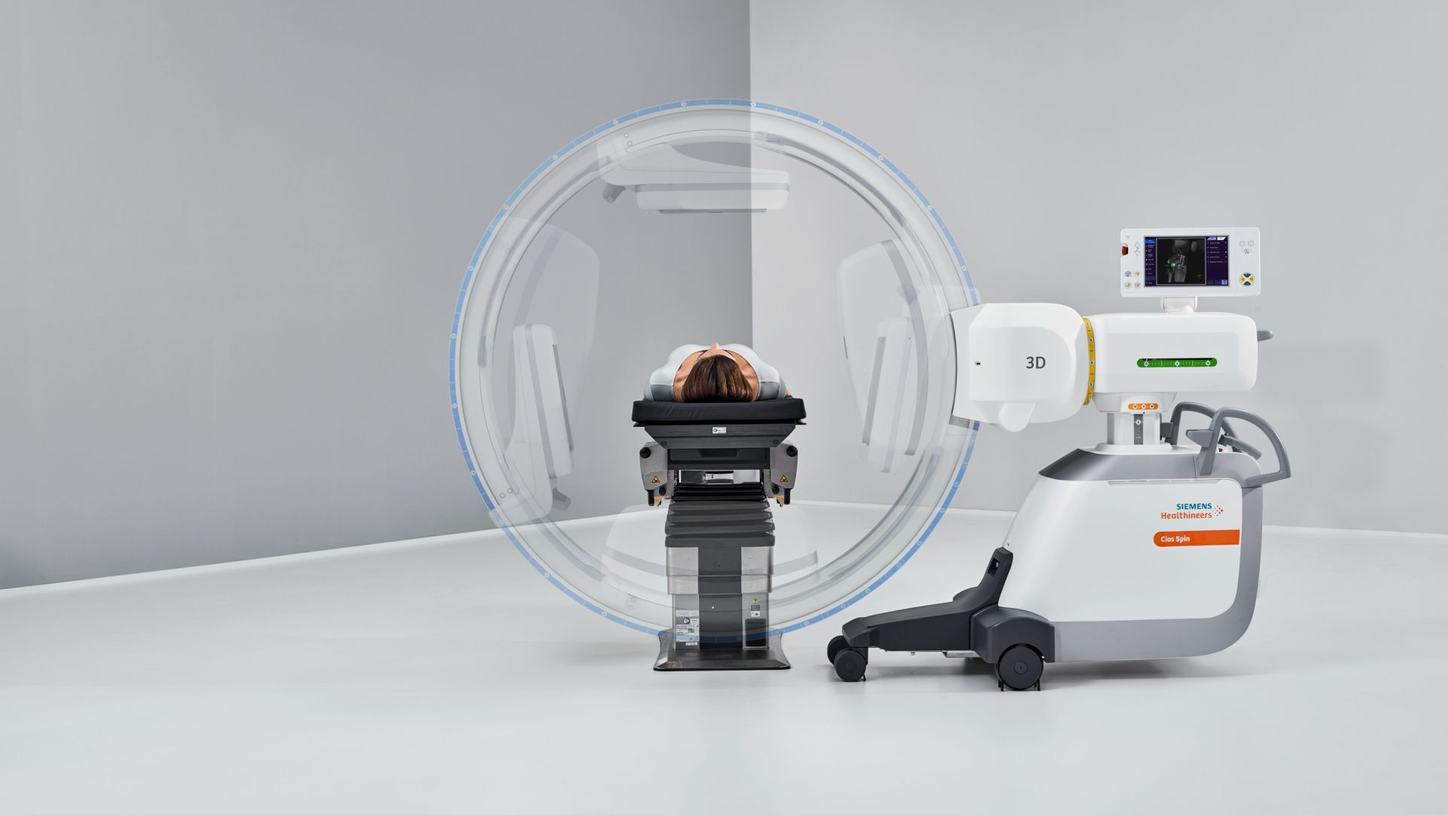 Cios Spin - More certainty in demanding cases
Cios Spin®, our latest 2D and 3D mobile C-arm with flat panel detector technology, is geared particularly towards orthopedic trauma and spine surgery. Easy to integrate into your surgical routine, it features dedicated 3D technologies that allow you to confirm your planned results. One highlight to mention for spine surgery is the feature of ScrewScout, which makes screw assessment particularly easy and convenient. Just toggle through the detected screws and save precious OR time.
Learn more about Cios Spin®
ARTIS pheno - Cutting edge robotic imaging to drive minimally invasive procedures
ARTIS pheno® is a angiography system for individualized preprocedural planning, intraoperative guidance, and immediate assessment. Its excellent flexibility and image quality make it an excellent choice for the treatment of even complex spinal procedures such as scoliosis or tumor surgery.
Learn more about ARTIS pheno