SOMATOM Edge Plus
Changing views in Computed Tomography
For care providers, the pressure to cut expenses results in an ever-increasing need for standardization and precision medicine. The CT scanner SOMATOM Edge Plus provides diagnostic imaging at the appropriate dose and with reproducible accuracy. Obtain rich, detailed information with technologies that bring tin-filtered scanning, 4D, and quantitative imaging to your clinical routine. And game-changing workflow automation simplifies scan preparation and helps you achieve new levels of precision.
Changing views on patient diversity – with personalized scanning
Scan virtually all patients with diagnostic confidence – including obese persons, children, and patients unable to cooperate.  
Get powerful images of obese patients: With SOMATOM Edge Plus, you can obtain sharp and rich-in-contrast images at high speed and low dose even with large patients.
Gently scan the dose-sensitive ones: Minimize the need for sedation and allow low-dose scans for children with High Power at low kV and integrated CARE Child technology.
Freeze motion when your patient can't: Excellent image quality within seconds for emergency cases due to the combination of High Power reserves with high coverage of up to 230 mm/s in clinical routine.
Changing views on clinical paradigms – with advanced imaging
Gain new diagnostic insights like functional information and tissue characterization, acquired with no dose or time penalty.
See more than ever before with tin-filtered scanning: Shield patients from clinically irrelevant dose and use CT for a wider application range with our Tin Filter technology.
Add dynamic imaging to your clinical routine: Make dynamic imaging an everyday method for nearly all patients and anatomical regions at the right dose and contrast-to-noise ratio.
Perform advanced quantitative imaging with no dose penalty: Eliminate additional non-contrast scans by creating virtual non-contrast images – backed by our unique TwinBeam Dual Energy technology.
Changing views on patient positioning – with automated workflows
Save time and achieve consistent results with smart automation for fast, precise positioning, scanning, and postprocessing. 
Safeguard correct and consistent positioning: Our FAST Integrated Workflow with FAST 3D Camera helps your team acquire first-time right scans and manage tight schedules.
Get closer to your patients: Set parameters without leaving your patients and offer them individual care with our Touch Panels on eye-level.
Simplify preparation of patients and scanner: Accelerate workflows and lower dose, helping you optimize process efficiency.

Thorax Abdomen Pelvic Imaging
04
Musculoskeletal Imaging
02
Sn140 kV
Scan time 10.35 s
Scan length 238 mm
CTDIvol 19.31 mGy
DLP 419.09 mGy*cm
Native follow-up of fractured knees in cast
Tin Filter for improved beam hardening
100 kV
Scan time 10.05 s
Scan length 212 mm
CTDIvol 38.05 mGy
DLP 731.68 mGy*cm
Contrast media-enhanced scan of the brain for tumor staging and therapy planning
Excellent image quality thanks to StellarInfinity detector
Sn100 kV
Scan time 6.16 s
Scan length 130 mm
CTDIvol 4.62 mGy
DLP 50.88 mGy*cm
Eff. Dose 0.1 mSv
High image quality at very low dose levels can be achieved using an Sn100 kV (Tin Filter) protocol with iterative reconstruction
Effective dose comparable to that of conventional radiography1
CTA
100 kV
Scan time 6 s
Scan length 389 mm
CTDIvol 9.4 mGy
DLP 339 mGy*cm
Perfusion
70 kV
Scan time 44 s
Scan length 118 mm
CTDIvol 151 mGy
DLP 1,780 mGy*cm
Follow-up after clipping
Adaptive 4D Spiral enables full brain perfusion imaging at low kV
High Power at low kV enables high contrast-to-noise ratio and potential dose savings
StellarInfinity detector enables high-resolution imaging of vascular regions
Sn100 kV / Sn100 kV
Scan time 7.73 s / 3.03 s
Scan length 356 mm / 300 mm
CTDIvol 1.65 mGy / 0.38 mGy
DLP 54.98 mGy*cm / 10.47 mGy*cm
Tin-filtered low-dose imaging of the lung for evaluation of infiltrates
110 kV
Scan time 5 s
Scan length 474 mm
CTDIvol 9.43 mGy
DLP 414 mGy*cm
Native lung imaging for lesion measurement and evaluation
10 kV Steps and High Power enable high contrast-to-noise ratio with potential dose savings
100 kV
Scan time 11 s
Scan length 661 mm
CTDIvol 12.9 mGy
DLP 819 mGy*cm
High Power at low kV enables high contrast-to-noise ratio and potential dose savings
Wide bore size enables scanning of even obese patients
HD field of view enables visualization of tissue even out to 78 cm
70 kV
Scan time 15.54 s
Scan length 535 mm
CTDIvol 8.15 mGy
DLP 421.56 mGy*cm
Single-phase contrast media-enhanced scan of the abdomen and pelvis for evaluation of multi-cystic disease
Great contrast-to-noise ratio at low dose due to High Power 70
1 mm slices shown
80 kV
Scan time 1.24 s (seq. acq.)
Scan length 104 mm
CTDIvol 5.32 mGy
DLP 56 mGy*cm
HR 55 bmp (avg.)
Coronary CTA of patient with stable heart rate to rule out stenosis
High Power at low kV enables high contrast-to-noise ratio and potential dose savings
Improve intra-operator image quality reliability with FAST Phase
80 kV
Scan length 240 mm
CTDIvol 35.8 mGy
DLP 1,035 mGy*cm
4D CTA for follow-up of endovascular repair of an abdominal aortic aneurysm
High Power at low kV enables high contrast-to-noise ratio and potential dose savings
4D scan range not limited by detector width
Increase diagnostic certainty with 4D information
70 kV
Scan time 3 s
Scan length 677 mm
CTDIvol 1.45 mGy
DLP 94 mGy*cm
Whole-body CTA of the aorta for assessment of aortic aneurysm
High Power at 70 kV enables high contrast-to-noise ratio images with potential radiation and contrast media dose savings1
ECG-triggered thorax CTA
80 kV
Scan time 1.96 s
Scan length 242 mm
CTDIvol 2 mGy
DLP 48.19 mGy*cm
Abdomen CTA
100 kV
Scan time 2.59 s
Scan length 454 mm
CTDIvol 4.81 mGy
DLP 203.58 mGy*cm
Low-kV two-step aortic CTA with ECG triggering for thoracic aorta
High Power at low kV enables high contrast-to-noise ratio and potential dose savings
Fast pitch of 1.7, up to 230 mm/s in clinical routine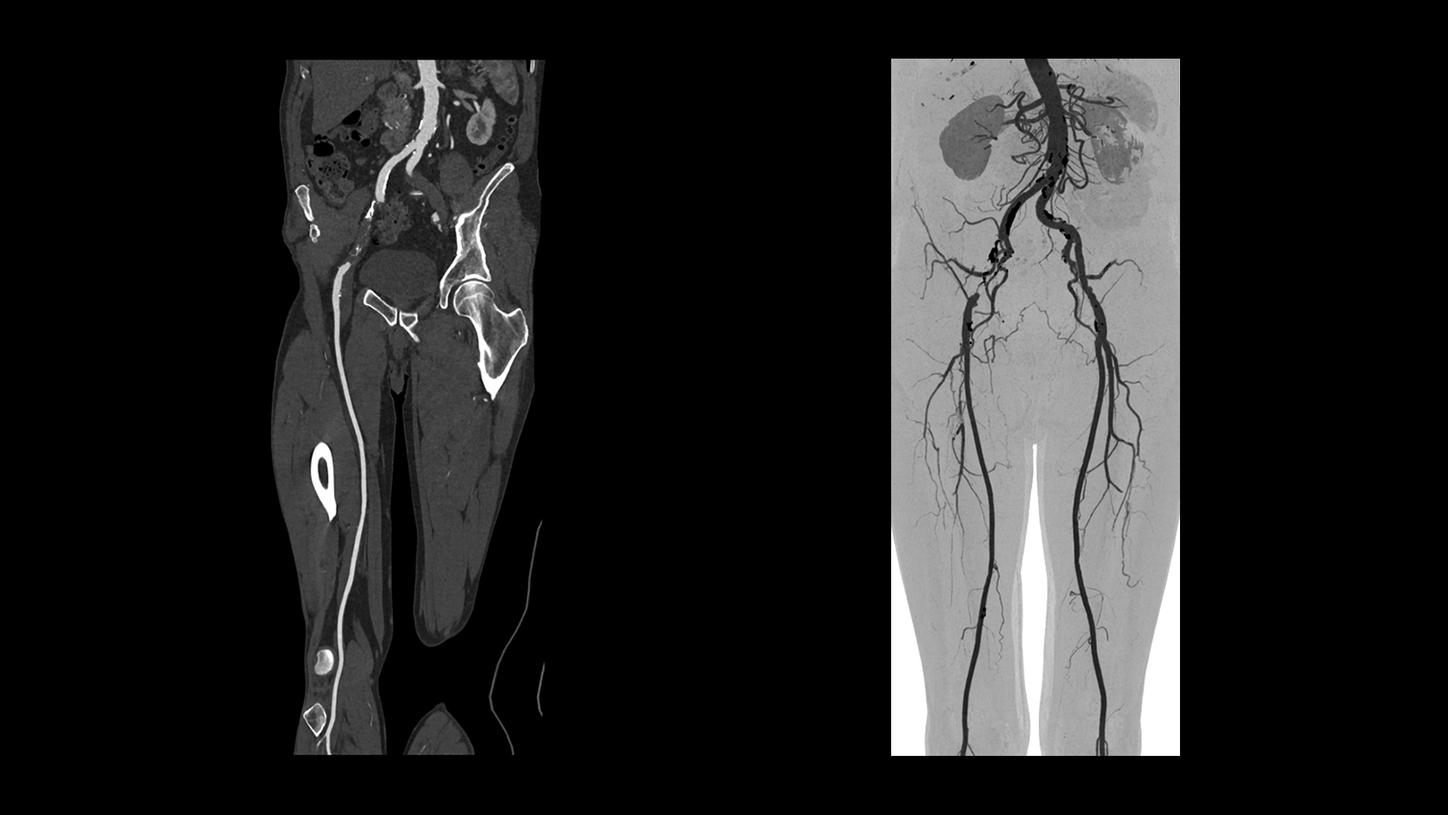 70 kV
Scan time 25.61 s
Scan length 1,349 mm
CTDIvol 1.84 mGy
DLP 243.69 mGy*cm
Contrast media-enhanced CTA of the lower extremities for evaluation of arterial vessel disease
High Power at 70 kV enabling high contrast-to-noise ratio images with potential dose savings
Sn100 kV
Scan time 2 s
Scan length 314 mms
CTDIvol 0.45 mGy
DLP 12.7 mGy*cm
Pediatric ultra-low-dose native lung imaging to assess infiltrates
Tin Filter for lung evaluation at low dose
120 kV
Scan time 37.89 s
Scan length 171 mm
CTDIvol 34.4 mGy
DLP 582.43 mGy*cm
Ultra-high-resolution scan of the knee after trauma with z-UHR comb
Sn140 kV
Scan time 10.35 s
Scan length 238 mm
CTDIvol 19.31 mGy
DLP 419.09 mGy*cm
Native follow-up of fractured knees in cast
Tin Filter for improved beam hardening
100 kV
Scan time 10.05 s
Scan length 212 mm
CTDIvol 38.05 mGy
DLP 731.68 mGy*cm
Contrast media-enhanced scan of the brain for tumor staging and therapy planning
Excellent image quality thanks to StellarInfinity detector
Sn100 kV
Scan time 6.16 s
Scan length 130 mm
CTDIvol 4.62 mGy
DLP 50.88 mGy*cm
Eff. Dose 0.1 mSv
High image quality at very low dose levels can be achieved using an Sn100 kV (Tin Filter) protocol with iterative reconstruction
Effective dose comparable to that of conventional radiography1
CTA
100 kV
Scan time 6 s
Scan length 389 mm
CTDIvol 9.4 mGy
DLP 339 mGy*cm
Perfusion
70 kV
Scan time 44 s
Scan length 118 mm
CTDIvol 151 mGy
DLP 1,780 mGy*cm
Follow-up after clipping
Adaptive 4D Spiral enables full brain perfusion imaging at low kV
High Power at low kV enables high contrast-to-noise ratio and potential dose savings
StellarInfinity detector enables high-resolution imaging of vascular regions
Sn100 kV / Sn100 kV
Scan time 7.73 s / 3.03 s
Scan length 356 mm / 300 mm
CTDIvol 1.65 mGy / 0.38 mGy
DLP 54.98 mGy*cm / 10.47 mGy*cm
Tin-filtered low-dose imaging of the lung for evaluation of infiltrates
110 kV
Scan time 5 s
Scan length 474 mm
CTDIvol 9.43 mGy
DLP 414 mGy*cm
Native lung imaging for lesion measurement and evaluation
10 kV Steps and High Power enable high contrast-to-noise ratio with potential dose savings
100 kV
Scan time 11 s
Scan length 661 mm
CTDIvol 12.9 mGy
DLP 819 mGy*cm
High Power at low kV enables high contrast-to-noise ratio and potential dose savings
Wide bore size enables scanning of even obese patients
HD field of view enables visualization of tissue even out to 78 cm
70 kV
Scan time 15.54 s
Scan length 535 mm
CTDIvol 8.15 mGy
DLP 421.56 mGy*cm
Single-phase contrast media-enhanced scan of the abdomen and pelvis for evaluation of multi-cystic disease
Great contrast-to-noise ratio at low dose due to High Power 70
1 mm slices shown
80 kV
Scan time 1.24 s (seq. acq.)
Scan length 104 mm
CTDIvol 5.32 mGy
DLP 56 mGy*cm
HR 55 bmp (avg.)
Coronary CTA of patient with stable heart rate to rule out stenosis
High Power at low kV enables high contrast-to-noise ratio and potential dose savings
Improve intra-operator image quality reliability with FAST Phase
80 kV
Scan length 240 mm
CTDIvol 35.8 mGy
DLP 1,035 mGy*cm
4D CTA for follow-up of endovascular repair of an abdominal aortic aneurysm
High Power at low kV enables high contrast-to-noise ratio and potential dose savings
4D scan range not limited by detector width
Increase diagnostic certainty with 4D information
70 kV
Scan time 3 s
Scan length 677 mm
CTDIvol 1.45 mGy
DLP 94 mGy*cm
Whole-body CTA of the aorta for assessment of aortic aneurysm
High Power at 70 kV enables high contrast-to-noise ratio images with potential radiation and contrast media dose savings1
ECG-triggered thorax CTA
80 kV
Scan time 1.96 s
Scan length 242 mm
CTDIvol 2 mGy
DLP 48.19 mGy*cm
Abdomen CTA
100 kV
Scan time 2.59 s
Scan length 454 mm
CTDIvol 4.81 mGy
DLP 203.58 mGy*cm
Low-kV two-step aortic CTA with ECG triggering for thoracic aorta
High Power at low kV enables high contrast-to-noise ratio and potential dose savings
Fast pitch of 1.7, up to 230 mm/s in clinical routine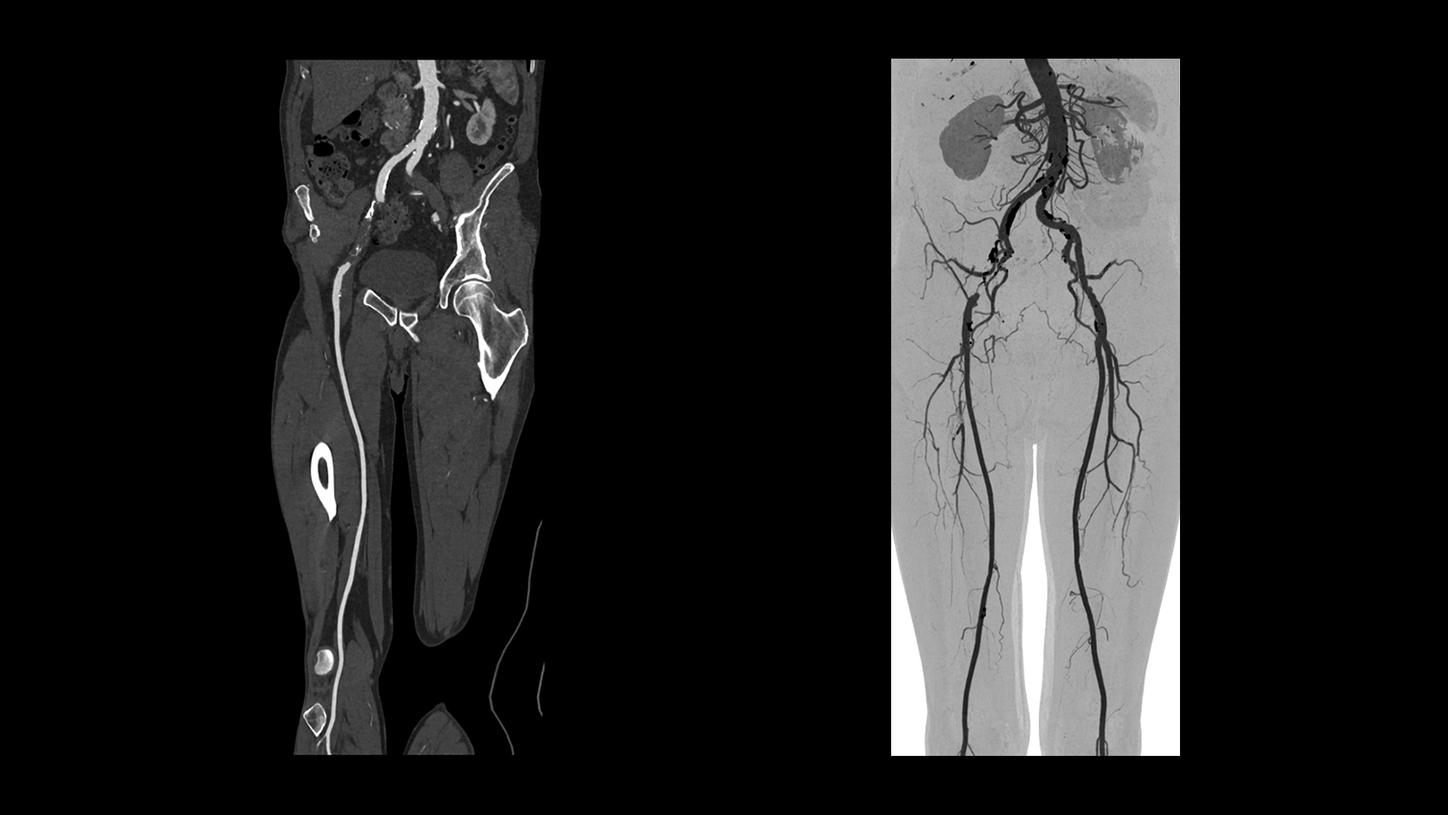 70 kV
Scan time 25.61 s
Scan length 1,349 mm
CTDIvol 1.84 mGy
DLP 243.69 mGy*cm
Contrast media-enhanced CTA of the lower extremities for evaluation of arterial vessel disease
High Power at 70 kV enabling high contrast-to-noise ratio images with potential dose savings
Sn100 kV
Scan time 2 s
Scan length 314 mms
CTDIvol 0.45 mGy
DLP 12.7 mGy*cm
Pediatric ultra-low-dose native lung imaging to assess infiltrates
Tin Filter for lung evaluation at low dose
120 kV
Scan time 37.89 s
Scan length 171 mm
CTDIvol 34.4 mGy
DLP 582.43 mGy*cm
Ultra-high-resolution scan of the knee after trauma with z-UHR comb
Sn140 kV
Scan time 10.35 s
Scan length 238 mm
CTDIvol 19.31 mGy
DLP 419.09 mGy*cm
Native follow-up of fractured knees in cast
Tin Filter for improved beam hardening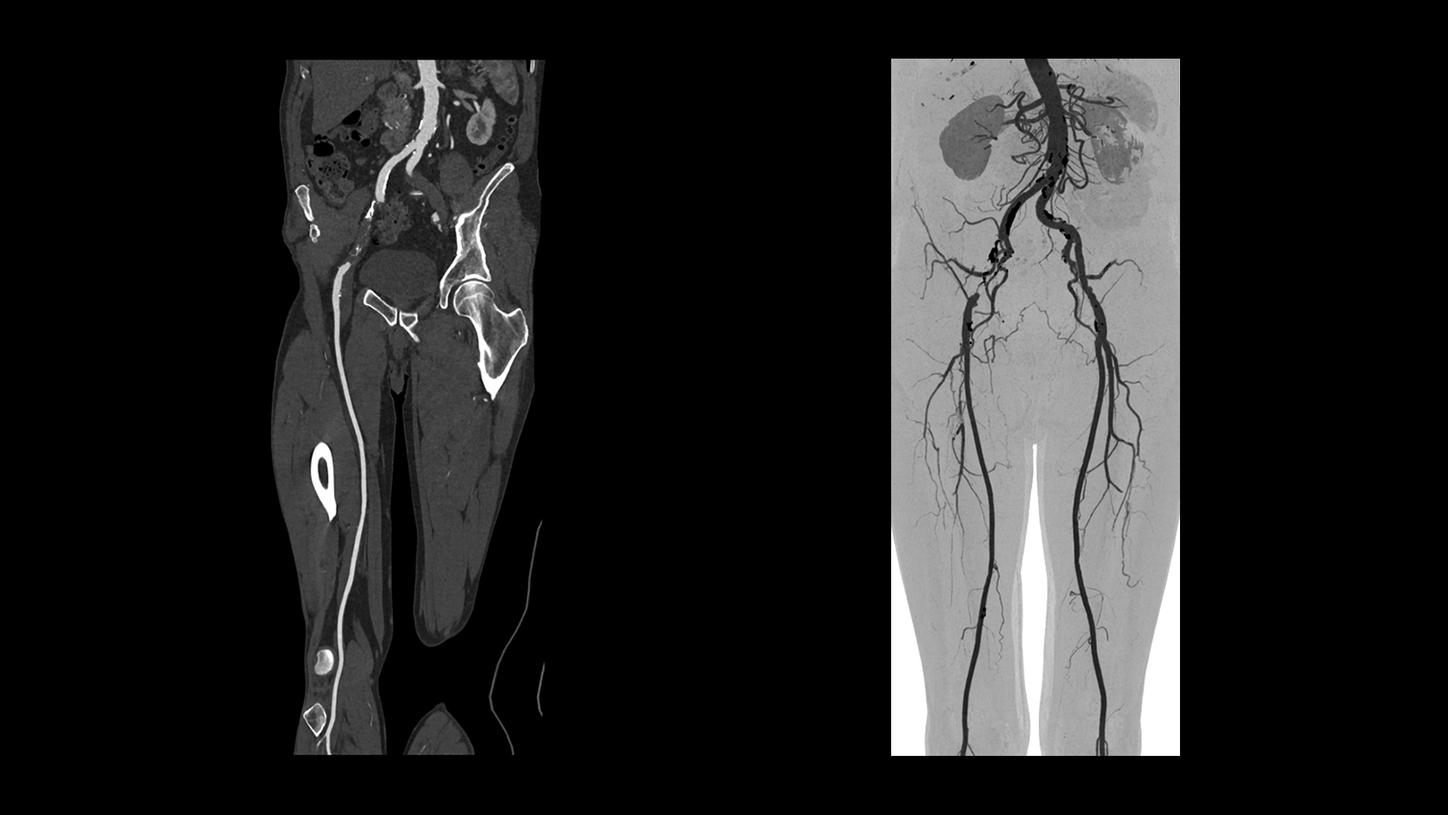 | | |
| --- | --- |
| | |
| Number of acquired slices: | |
| Number of reconstructed slices: | |
| | |
| | |
| In-plane temporal resolution: | |
| | |
| | 70, 80, 90, 100, 110, 120, 130, 140 kV |
| | |
| | |
| | |