Sistema de Gestão de Dados ADVIA CentraLink
Sistema de Gestão de Dados ADVIA CentraLink
Controle o fluxo de trabalho e resultados para um melhor atendimento aos pacientes.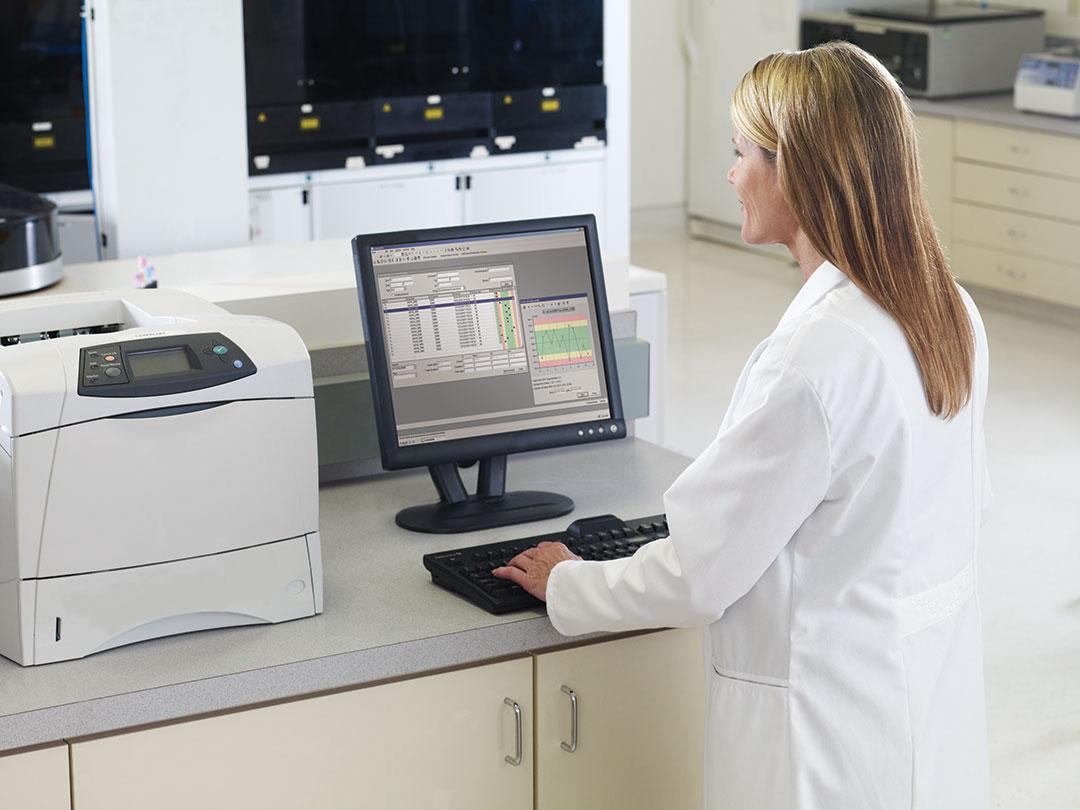 CentraLink Data Management System
O Sistema de Gestão de Dados ADVIA CentraLink™ é uma solução comprovada de gestão de sistemas que permite aos laboratórios entregas rápidas de resultados eficientes e confiáveis. Foi classificado como o número 1 em satisfação de clientes no Information Dynamics Middleware MARKET MONITOR™ em duas pesquisas realizadas em 2011 e 2013. Com o sistema CentraLink você pode:
Melhorar a eficiência por meio da automação, direcionamento e personalização dos fluxos de trabalho;
Simplificar as operações com uma solução integrada para automação, sistemas e TI;
Acessar as informações que você precisa, quando você precisar;
Melhor suporte aos resultados dos pacientes, com utilização de regras avançadas garantindo alta qualidade e resultados clínicos precisos.
Características e Benefícios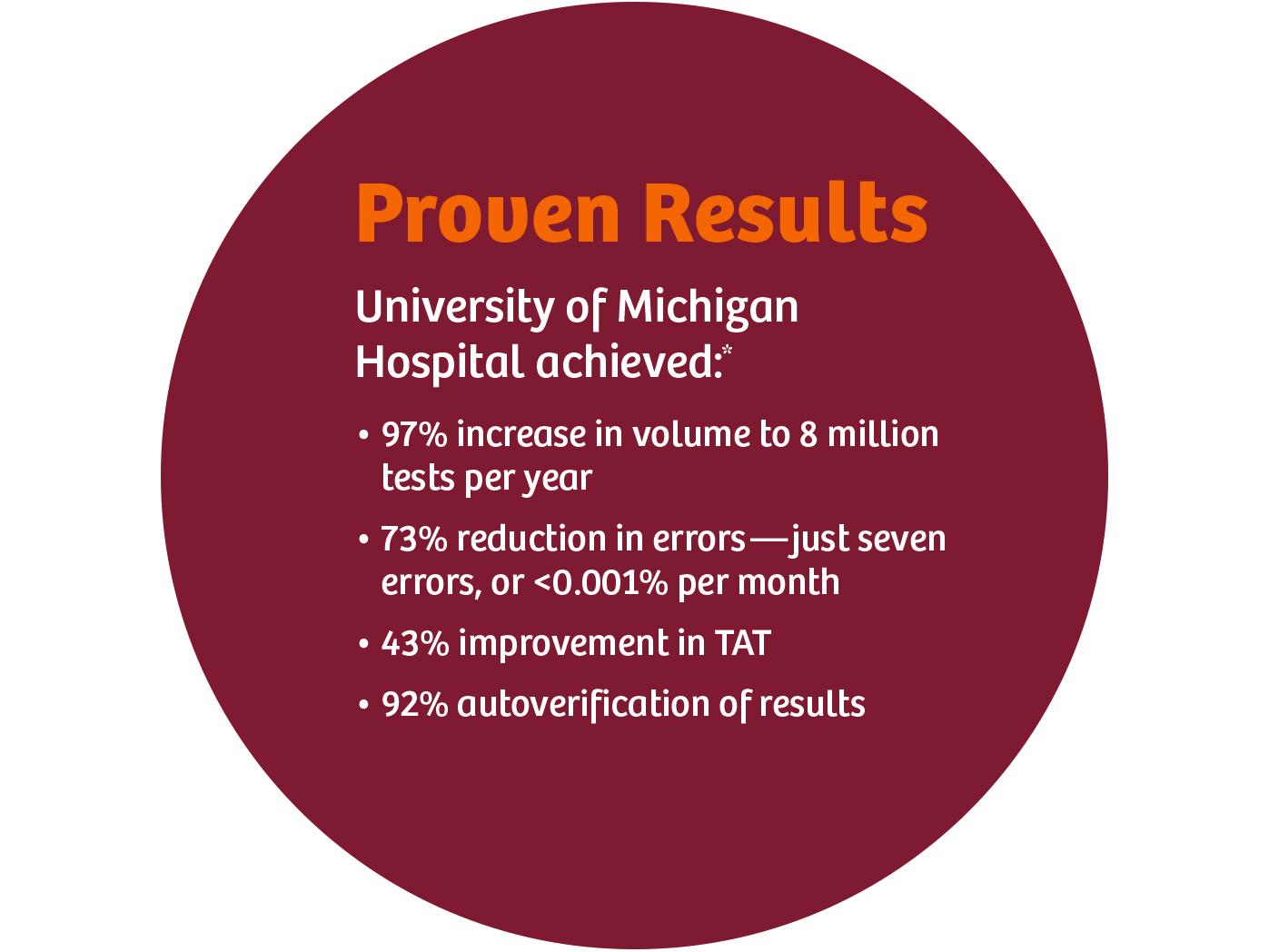 University of Michigan Hospital achieved:*
†
97% increase in volume to 8 million tests per year
73% reduction in errors—just seven errors, or <0.001% per month
43% improvement in TAT
92% autoverification of results
Autoverification to customize reviews, automate tasks, and reduce errors
Start quickly with rules wizard.
Support special and/or complex circumstances.
Apply review criteria consistently.
Flag clinically significant changes.
Use patient demographics in advanced diagnostic algorithms.
Hold results linked to a QC failure for manual review.
Integrated QC for continuous, proactive monitoring
View QC and patient results simultaneously.
Find test results between two failed QC points in two clicks and easily locate samples.
Monitor patient moving averages to identify and troubleshoot system errors.
Upload real-time QC results to Bio-Rad UNITY program.
Workflow management using rules to automatically process orders
Automate results.
Apply autodilution cascades to save time and reagents.
Define rules according to patient demographics.
Implement advanced diagnostic algorithms to drive reflex testing, reruns, delta checks, instrument flags, and QC.
Real-time dashboard of up to 16 customized KPIs
Highlight items in need of attention.
Add visual cues to indicate severity.
Prompt for immediate action.
Customize to specific roles.
Provide reassurance when operations are running smoothly.
Enhanced automation performance
CentraLink rules created to govern algorithm-driven testing, result-based workflows, and/or automated QC evaluations can do more than simply generate a flag which requires staff to intervene or initiate a next step. As part of an Aptio® Automation solution, the CentraLink system can drive automated next steps in sample management:
 
Automated sample retrieval reduced add-on testing TAT from 6 to 2 hours at Australian Clinical Labs in Victoria, Australia.†
TAT improved 61% for add-on tests at National Health Service Tayside in Dundee, U.K.†
Reflex and add-on tests ordered via the HIS/LIS at North Memorial Health Care in Robbinsville, MN, are automatically retrieved from refrigerated storage and sent for analysis with no operator intervention†.

How it works:

CentraLink Data Management System integrates clinical data to automate lab workflow. When a QC failure occurs, the CentraLink system can automatically disable assay-specific testing on the instrument in question and immediately reroute samples to perform the required testing on another instrument on the Aptio Automation track. Likewise, when reflex testing is triggered or orders for add-on tests are received from the LIS, samples connected to the Aptio Automation track can be automatically retrieved and processed. Importantly, the ability to deeply integrate data from connected instruments and automation modules means that viability algorithms that include time of collection, time of centrifugation, storage time, etc., may be used to determine if the add-on tests will be clinically significant. If not, the middleware can alert the operator that a new sample draw may be required.
Use with Aptio® Automation or VersaCell® X3 Solution.
Reduce the number of manual steps from accession to test results.
Algorithm-driven testing.
Result- and QC-based workflows.
Education and customer support well beyond the initial installation
On-site technical support and training is provided during implementation.
Consulting services are available for customized solutions.
Online education courses simplify ongoing staff training.
One point of contact simplifies communication.
Learn more about these features
A variety of white papers, video tutorials, and customer case studies are available to help you better understand how powerful and easy to use the CentraLink Data Management System can be:
Simplify data management with connectivity to the following analyzers. Please contact your local Siemens Healthineers representative or consult our Laboratory Diagnostics Document Library for the CentraLink system interface established for each device.
Siemens Healthcare Diagnostics Inc.
ADVIA® 120 Hematology System*
ADVIA® 560
ADVIA® 560 AL
ADVIA® 560 AL Hematology System
ADVIA® 560 Hematology System
ADVIA® 1800 Chemistry System*
ADVIA® 2120 Hematology System*
ADVIA® 2120i Hematology System with or without Autoslide
ADVIA® 2400 Chemistry System*
ADVIA® Automation Solution*
ADVIA Centaur® CP Immunoassay System
ADVIA Centaur® XP Immunoassay System
ADVIA Centaur® XPT Immunoassay System
ADVIA® Chemistry XPT System
Aptio® Automation
Atellica® CH 930 Analyzer
Atellica® COAG 360 System†
Atellica® IM 1300 Analyzer
Atellica® IM 1600 Analyzer
Atellica® NEPH 630 System
Atellica® Process Manager
BCS® XP System
BN™ II System
BN ProSpec® System
CLINITEK Atlas® Urine Chemistry Analyzer*
CLINITEK Novus® Automated Urine Chemistry Analyzer
Dimension® EXL™ 200 Integrated Chemistry System
Dimension® EXL™ with LM Integrated Chemistry System
Dimension® RxL Max® Clinical Chemistry System*
Dimension Vista® 500 Intelligent Lab System
Dimension Vista® 1500 Intelligent Lab System
Dimension® Xpand® Plus Clinical Chemistry System
IMMULITE® 1000 Immunoassay System
IMMULITE® 2000 XPi Immunoassay System
VersaCell® System*
VersaCell® X3 Solution
VERSANT® 440 Molecular System*
Abbott§
ARCHITECT C4000 Clinical Chemistry Analyzer
ARCHITECT C8000 Clinical Chemistry Analyzer
ARCHITECT C16000 Clinical Chemistry Analyzer
ARCHITECT CI16200 Integrated Chemistry and Immunoassay Analyzer
ARCHITECT CI4100 Integrated Chemistry and Immunoassay Analyzer
ARCHITECT CI8200 Integrated Chemistry and Immunoassay Analyzer
ARCHITECT I1000 Immunoassay Analyzer
ARCHITECT I2000 Immunoassay Analyzer
ARCHITECT I2000SR Immunoassay Analyzer
ARCHITECT i4000 Immunoassay Analyzer
ARCHITECT i4000SR Immunoassay Analyzer
Alifax§
JO-PLUS On Line ESR System for Total Laboratory Automation
Beckman Coulter§
AU2700 Chemistry Analyzer±
AU680 Chemistry Analyzer±
AU5800 Chemistry Analyzer±
BioMerieux§
VIDAS INSTRUMENTS
MINIVIDAS INSTRUMENTS
Bio-Rad§
BIOPLEX 2200 Multiplexing Platform
D-100 System
UNITY REAL TIME SOFTWARE
CellaVision§
CellaVision® DM96 Digital Cell Morphology System*
CellaVision® DM1200 Digital Cell Morphology System
CellaVision® DM9600 Digital Cell Morphology System
Diagnostica Stago§
STA COMPACT MAX Analyzer
STA-R Coagulation Analyzer
STA R MAX Analyzer
DiaSorin§
LIAISON Analyzer†
LIAISON XL Analyzer
Dynex Technologies§
DS2 2-Plate ELISA Processing System
DSX Workstation
Grifols§
WADIANA Compact Automated Blood Bank System
ERYTRA Automated System for Blood Typing
ERYTRA EFLEXIS Automated System for Blood Typing
Inova Diagnostics§
BEST 2000 Microtiter Plate Processor
Instrumentation Laboratory§
ACL TOP 300 Hemostasis Testing System
ACL TOP 300 CTS Hemostasis Testing System
ACL TOP 350 CTS Hemostasis Testing System
ACL TOP 500 Hemostasis Testing System
ACL TOP 500 CTS Hemostasis Testing System
ACL TOP 550 CTS Hemostasis Testing System
ACL TOP 700 Hemostasis Testing System
ACL TOP 700 CTS Hemostasis Testing System
ACL TOP 700 LAS Hemostasis Testing System
ACL TOP 750 Hemostasis Testing System
ACL TOP 750 CTS Hemostasis Testing System
Ortho Clinical Diagnostics§
VITROS 3600 Immunodiagnostic System
VITROS 5600 Integrated System
Roche§
COBAS IT Middleware
COBAS 8000 DM Modular Analyzer Series (c502 Chemistry, c701 Chemistry, c702 Chemistry, e602 Chemistry, e801 Immunoassay Analyzers)
Sebia§
CAPILLARYS FLEX PIERCING Instrument
CAPILLARYS 2 FLEX PIERCING Instrument
CAPILLARYS 3 FLEX PIERCING Instrument
GELSCAN Densitometry Scanning System
HYDRASYS Gel Electrophoresis Instrument
MINICAP System
Sysmex§
Alpha Series Hematology Analyzers
CA-1500 System
CA-7000 System
CS-2000i System
CS-2100i System
CS-2500 System
CS-5100 System
HST-N Total Hematology System
HST-Series Hematology Analyzers
K-4500 Automated Hematology Analyzer
SAS-3 Electrophoresis Analyzer
SAS-4 Gel Processor
SP-1000i Slide-maker/Stainer
UF-1000i™ Fluorescence Flow Cytometer
UF-500i™ Fluorescence Flow Cytometer
XE-Series Hematology Analyzers
XN-Series Hematology Analyzers
XS-Series Hematology Analyzers
XT-Series Hematology Analyzers
Thermo Fisher Scientific§
PHADIA 100 System
PHADIA 250 System
PHADIA 1000 System
PHADIA 2500 System
PHADIA 5000 System
PHADIA INFORMATION DATA MANAGER (IDM)
QUANTSTUDIO PCR Systems
Tosoh Bioscience§
AIA-1800 System‡
G8 Analyzer via PIANO Interface
The CentraLink system can magnify the power and productivity of an Aptio® Automation track with deeply integrated rules that drive automated next steps for testing. Please contact your local sales representative to learn how to improve reflex or add-on testing and increase QC integration by making the CentraLink system a part of your Aptio Automation solution.
First introduced in 2000, the CentraLink Data Management System has been continuously enhanced to meet the evolving needs of our customers. Version 16 of this time-tested middleware offers the following new features to help increase quality and reduce errors related to sample management, clinical data management, and laboratory workflow:
Helps you improve clinical quality by guiding your staff to suggested next steps and processes using the new iExpert feature.
Supports up to 16 customized KPI counters in status dashboard.
Supports unlimited users and LIS connections.
Connects up to 75 instruments.
Expands connectivity to Siemens Healthineers and non-Siemens analyzers.‡
Almost doubles storage of results and QC.
Increases customization options for dashboards, reporting, and KPIs.
Boosts performance.

Version 16 is also available as a virtualized software solution to run on your hardware in your data center to facilitate compliance with your organization's IT standards.

Download the product brochure and technical specifications for complete details or visit the Features and Benefits page to learn more.
Essa informação foi útil?
*May no longer be available for sale.
†Product availability varies by country. Not available for sale in the U.S.
±Only available for instruments connected through Aptio Automation
‡Interface under development. Future availability is not guaranteed.
§Contact device manufacturer to confirm instrument availability and compatibility of device software with CentraLink interfaces.
The products/features mentioned here are not commercially available in all countries. Due to regulatory reasons, their future availability cannot be guaranteed. Please contact your local Siemens Healthineers organization for further details.