SOMATOM go.Up
Expanda su exitoso negocio de TC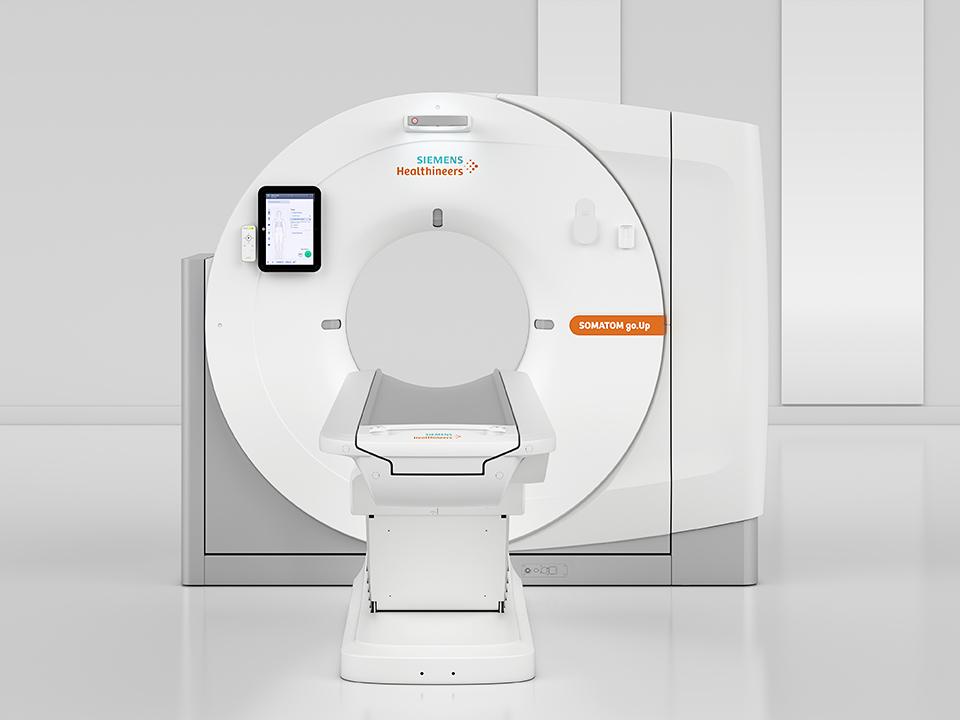 SOMATOM go.Up
Su SOMATOM go. escáner para expandir su exitoso negocio de TC
SOMATOM go.Up viene con una tecnología que es completamente nueva para los escáneres de este tipo. Hace que los procedimientos avanzados estén disponibles para la práctica diaria. Entre otras cosas, SOMATOM go.Up abre el campo de la atención preventiva para sus operaciones de rutina. Además, incluye un diseño de lugar de trabajo innovador y un modelo de servicio completamente rediseñado para reducir costos. Al hacer accesible la atención de alta calidad, le permite mantenerse competitivo y controlar la rentabilidad desde la tableta.
Características y Beneficios
"The mobile workflow: More than ever, the patient is in the center of the whole examination."

Carla Susana Ribeiro Pinto
CT radiographer at Centro Hospitalar de São João, Porto, Portugal
Gain flexibility with the new mobile workflow
Built around a new mobile workflow, SOMATOM go.Up® features a line-up of innovative solutions that bring an unparalleled level of flexibility and mobility to daily CT routines. The solutions also help to enhance patient comfort for potentially higher levels of patient satisfaction.
Tablet
Lightweight, high-resolution tablet gives you total freedom over how you work
With Scan&GO technology, you just need a few steps for the entire scan
Start checking patient information as soon as you collect them from the waiting room, and then prepare the scan directly at the gantry
Stay with the patient for longer
With the SOMATOM go.Up CT scanner, users can spend most of the time with the patient – which results in higher efficiency, higher patient comfort, and fewer motion artifacts.
On the left: A standard workflow. The CT operator spends most of the time in the control room.
In comparison, the unique new mobile workflow of SOMATOM go.Up, based on tablet-operation and automation.
New workplace design
Thanks to gantry-integrated computers, complete flexibility over where you position the workstation
Depending on your needs and infrastructure, you can set up the workstation in the same room, outside the scan room, or in a separate control room
Camera
Helps you keep an eye on the patient at all times
Makes it easy to provide better care
Close-up perspective makes it easy to spot even micro-movements and keep the patient in the right position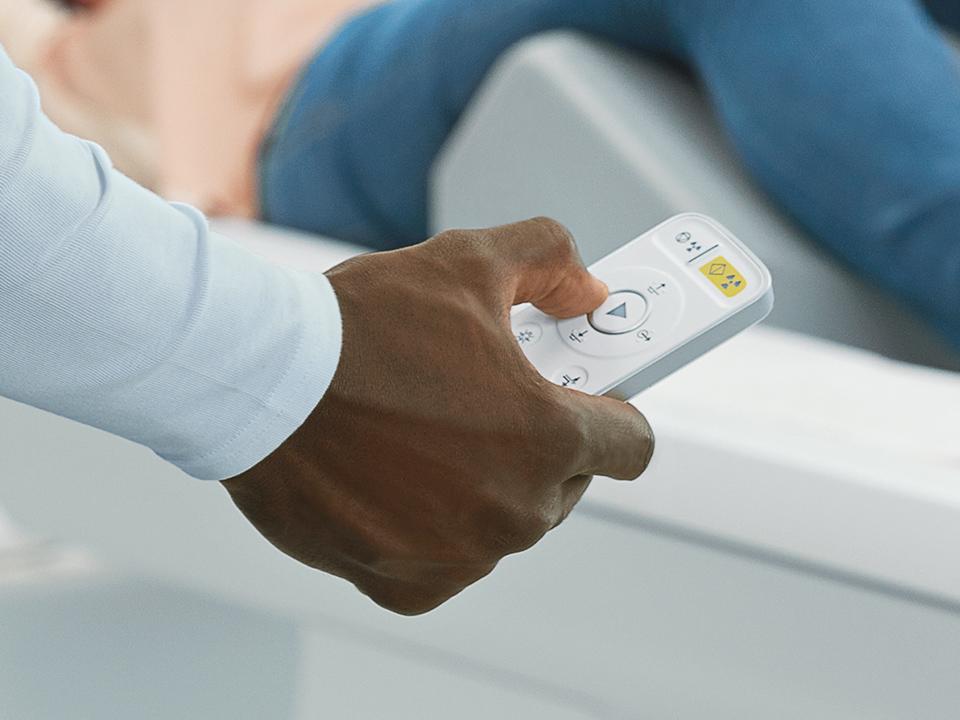 Remote control
Easy-to-use Bluetooth remote control
Streamlines scanning and makes workflow processes more efficient
Automate your workflow with GO technologies
SOMATOM go.Up features a holistic set of intuitive solutions that addresses your workflow not only at the scanner but also beyond. By reducing repetitive workflow steps, GO technologies help standardize and simplify all departmental processes. You can therefore work more efficiently and focus on your patients – two factors key to running a successful business.
Scan&GO
A tablet app that allows you to control scans remotely
Choose whether to operate the scanner at the gantry or from outside the room
Benefit from faster patient preparation and positioning
Check&GO
An intelligent algorithm that flags up problems with coverage or contrast media distribution as they occur
Correct issues on the go, prevent subsequent errors in multiphase scans, and avoid archiving suboptimal images
Ultimately reduce the number of recalls
Recon&GO
Performs zero-click postprocessing, making it part of the standard reconstruction tasks
As a ready-to-read technology it saves time and cuts down on workflow steps
CT View&GO
An all-in-one, cross-specialty viewing solution that provides a large variety of clinical applications
Tools for smooth reading in just one workflow
Customizable user interface to tailor the system to your needs
Turn complex exams into clinical routine
SOMATOM go.Up thus allows you to broaden your clinical range and grow with profound clinical results. Thanks to premium technologies, it delivers results that were previously only available on high-end scanners. In addition, SOMATOM go.Up is well suited for radiation therapy. With the RT Image Suite in the acquisition workstation, you gain access to easy and comfortable simulation, image assessment, and contouring in RT.
Intuitive functions in CT-guided intervention
Benefit from Guide&GO, the first tablet-based solution for CT-guided interventions. Control the entire procedure from the tablet and remote control, and navigate images using intuitive touchscreen functions familiar to any smartphone user.
 
Fast and efficient routine scanning
SOMATOM go.Up delivers the low-dose scanning that is essential for optimal patient care. It allows scans of long ranges at the speed of a breath-hold while maintaining a high spatial resolution.
High-quality CT angiography for vascular exams
SOMATOM go.Up allows high quality angiography exams of central and peripheral arteries with good iodine contrast, sub-millimeter slices, and precise timing.
Speed and accuracy in routine neuro examinations
SOMATOM go.Up optimizes image quality and reduces dose in routine neuro examinations. Its speed and accuracy allow a crisp visualization of the supraaortic vessels with reduced venous contamination.
Broaden your portfolio in preventive care
SOMATOM go.Up allows to offer colon imaging and lung cancer screening as well as calcium scoring exams. With sub-millimeter collimation in every scan, it provides high spatial resolution and helps improve the detection of occult lesions.
Profit from a low initial investment and reliable components
A key aim of the overall SOMATOM go. concept was to minimize your initial cost of investment. The result is a system that makes a Siemens Healthineers CT scanner more affordable than ever. In addition, the scanner components and underlying software algorithms were specifically chosen for reliability, remote serviceability, and extended tube lifetime.
Flexible room concept
Save on valuable space by having scanner and workstation in one single room. With the "niche" setup, operators are fully protected while the X-ray is on.
Thanks to gantry-integrated computers, you no longer need to invest in a separate control room.
Alternative: position the workstation outside the room or opt for the traditional control room setup
Reliable components
Equipped with durable components that deliver outstanding reliability to keep the scanner running smoothly for longer
Experts from the Siemens Healthineers Support Center provide ad hoc support whenever needed and quickly help identify and resolve any issues that might occur via Smart Remote Service
Chronon® tube features a highly robust design and 8.75 MHU equivalent anode heat capacity with SAFIRE, built to surpass the performance of its predecessor.
Benefit from premium support
The Siemens Healthineers Connect Plan1 is an all-new service plan that comes standard with the investment of SOMATOM go.Up. It fully utilizes the capabilities of the connection to our digital platforms – SRS, PEPconnect2, teamplay Fleet – and to our remote services. This allows you to receive seamless support. It covers the second and third year after system purchase and gives you the financial confidence of premium service, matching your total cost of ownership requirements. Additionally, you can optionally upgrade to a full service contract.
Siemens Healthineers Connect Plan1
Multi-year service package, included in the system purchase price, to improve scanner uptime
Affords you financial certainty from day one
Many aspects of service – including spare parts3 – covered in the scanner purchase price
Higher uptime, improved workflows, efficient support, and streamlined training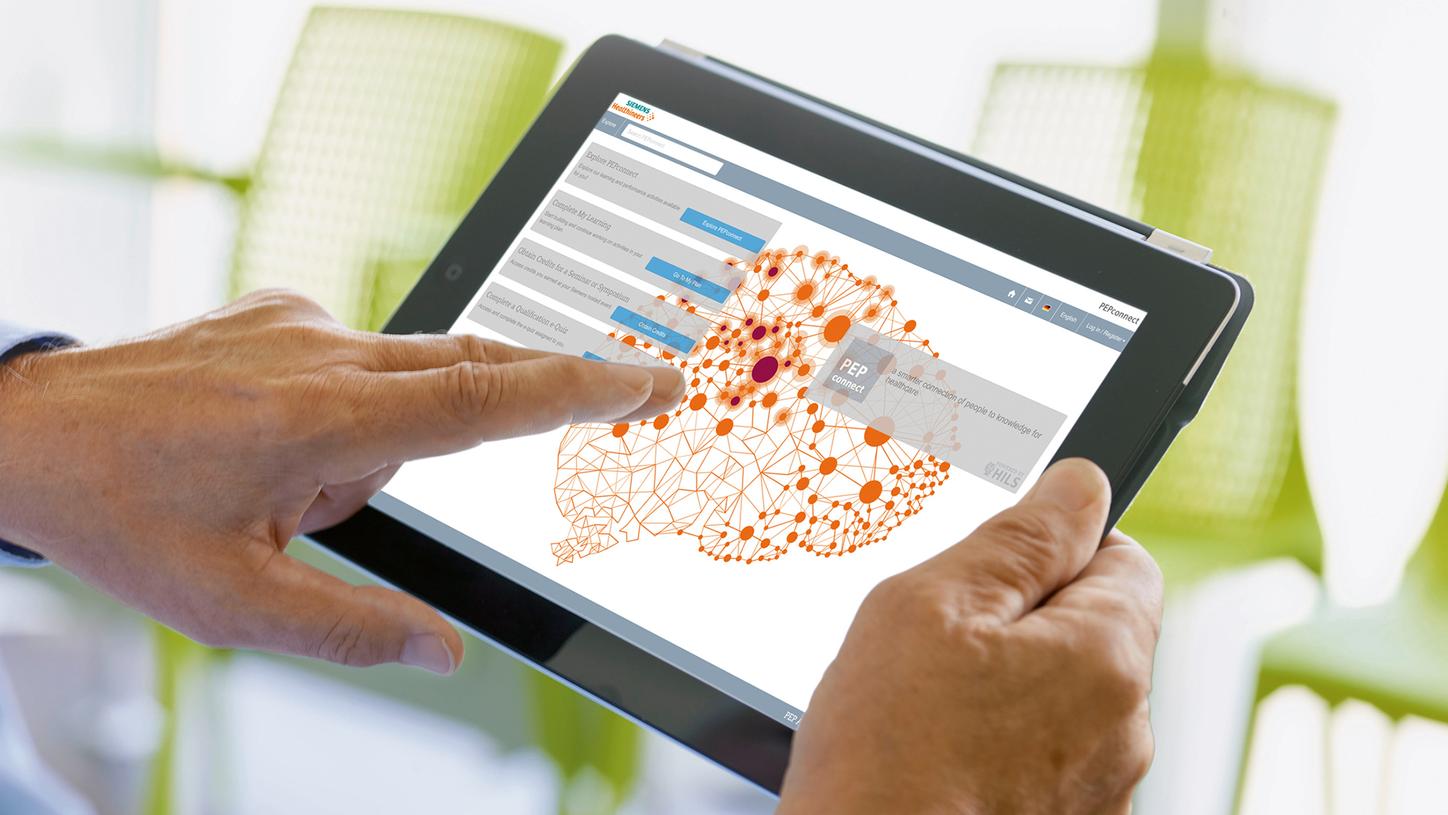 Blended learning with PEPconnect2
The industry's first online personalized education experience
Combines self-study training material, face-to-face training, and online learning
Staff training can begin even before system delivery
SOMATOM go.Up® helps you expand your clinical portfolio and turn complex exams into clinical routine. Thanks to premium technologies, it delivers results that will help you take the next clinical step and go beyond routine.
Fast and efficient routine scanning
High-quality CT angiography
Speed and accuracy in routine neuro examinations
Broaden your portfolio in preventive care
Lung imaging; Stretch the limits of low-dose scanning with Tin Filter technology, CTDIvol:0.44 mGy;
Courtesy of Erlangen University Hospital, Erlangen, Germany
Especificaciones Técnicas
SOMATOM go.Up features a 2.2 cm Stellar detector able to deliver up to 64 reconstructed slices with IVR (interleaved volume reconstruction) – for faster scanning, fewer motion artifacts, and shorter breath-hold times.
1.5 s, 1.0 s (opt. 0.8 s)

240 mA (opt. 400 mA)
600 mA (opt. 1000 mA)4
SOMATOM go.Up has a patient table with scannable range up to 160 cm that can hold up to 227kg for bariatric patients. The table is equipped with newly designed accessories such as a paper roll holder, an infusion stand, and RT positioning devices.
¿Fue útil esta información?
1Powered by Smart Remote Service. Siemens Healthineers Connect Plan is subject to regional adaptions/restrictions.
2PEPconnect availability is subject to regional restrictions.
3Excluding X-ray tube and tablet. Additional tube and tablet coverage solutions are optionally available.
4Equivalent value with SAFIRE